Key Takeaways
If you have student loan debt, then be on alert for scammers trying to defraud borrowers.
Criminals will likely use the upcoming forgiveness program to exploit those with debt.
Keep reading to learn about red flags and everything we know about the legitimate forgiveness program.
President Biden recently announced a student loan relief program, forgiving up to $20,000 in federal student loan debt for eligible borrowers. Unfortunately, scammers are targeting those with student loan debt before the legitimate program rolls out.
That's why the FTC issued a consumer alert, warning people that criminals will likely exploit the news to take advantage of borrowers. But you can protect yourself from fraudsters. Here are a few red flags to watch out for to avoid student loan forgiveness scams.
Out-of-the-Blue Calls and Emails
The Department of Education won't call you out of the blue to get your social security number, FSA ID, password, or other personal details. So, don't give out such information over the phone or by email to someone who reaches out to you claiming to be a government representative.
"Scammers can fake a government seal and sometimes even a government email address," according to CNET. If you receive a phone call or email asking for personal information, then don't answer questions, click on links, or download anything. Instead, go directly to secure government websites.
Upfront Fees
When the program rolls out, you won't need to pay anyone to sign up. "Nobody can get you in early, help you jump the line, or guarantee eligibility," according to the FTC. "And anybody who says they can — or tries to charge you — is (1) a liar, and (2) a scammer."
Beyond scams modeled after the upcoming relief program, also be on the lookout for other ploys that involve paying money upfront to get debt relief. Federal Student Aid says it's illegal for a company to charge an upfront fee for debt consolidation services.
Asking for Your FSA ID
While you probably know not to give out your social security number to just anyone, you might not realize how important it is to protect your FSA ID. CNET says, "Your FSA ID is considered a legal signature by the US Department of Education for use in all of its online systems."
That's significant because scammers can use your FSA ID to access your student aid account, make changes, and according to AARP, "even divert your payments." So, you shouldn't share your FSA ID with anyone, and it's a red flag if someone asks you for it.
Pushes You To Act Fast
Feeling pressured to move quickly is another tipoff that you could be dealing with a scammer. Don't get caught up in the moment should they tell you that you could miss out on loan forgiveness if you don't start the process right then.
Take your time and fact-check the program yourself. Go directly to government websites and verify that you're on a secure website with a .gov address. Scammers can make lookalike websites, so make sure you visit authentic sites.
What To Do If You Were Scammed
If you think you've been scammed, then you should quickly take steps to prevent further damage. Contact your financial institution and credit card company to close accounts if you gave a scammer your bank account or credit card information.
You'll also want to contact your student loan servicer if you gave the scammer any of your student loan information. For example, the scammer may have pushed for your FSA ID and password. Additionally, CNBC suggests checking your credit report.
What To Do If a Scammer Contacts You
Hang up if you get a suspicious call and don't reply if you receive a fishy email or letter. As long as you don't respond or give the scammer any information, then CNBC says "you don't necessarily have to take immediate action."
However, it is helpful to report the potential scammer to authorities. You can either contact the Federal Trade Commission or your state attorney general to file a complaint with the details of the situation.
So, How Much Debt Is Being Forgiven?
Individuals making less than $125,000 and married couples making less than $250,000 are eligible for up to $20,000 in debt cancellation. According to the White House, the Department of Education will forgive up to the full $20,000 for Pell Grant recipients and up to $10,000 for non-Pell Grant recipients.
If you'll still have federal student loan debt after the cancellation, then there's a date you should circle on your calendar: December 31, 2022. That's when the pause on federal student loan repayment ends. So, payments will resume in January 2023.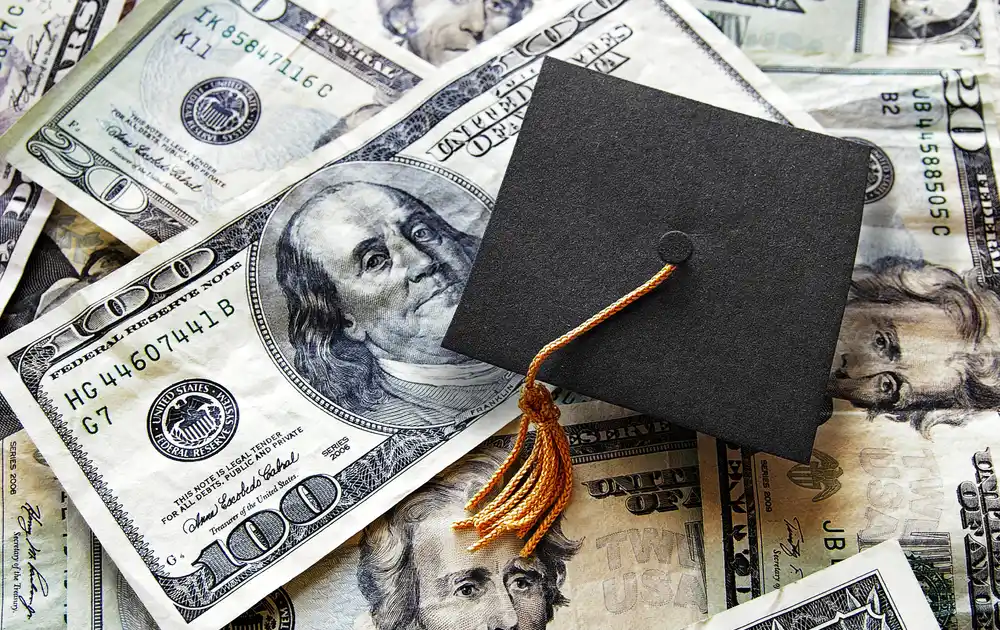 Shutterstock
Things To Keep in Mind
While the application for the Biden administration's student loan forgiveness program won't be available until October, borrowers can take steps to get ready to apply. For example, Bloomberg suggests:
Signing up for Department of Education email updates to get notified when the application goes live.
Checking with your student loan servicer to make sure they have your current contact information.
Gathering your 2020 and 2021 tax returns to see if you meet the income eligibility requirement.
Looking into refunds for any payments you made on your federal student loans during the pause.
Additionally, Education Secretary Miguel Cardona says applications will take four to six weeks to process and should be submitted before November 15 to get relief before the payment pause ends.
Other Loan Forgiveness Programs
The upcoming student loan relief announced by the president isn't the only legitimate debt cancellation program out there. For instance, Investopedia says borrowers may be eligible for Public Service Loan Forgiveness, Teacher Loan Forgiveness, and Perkins Loan Cancellation.
That means teachers, government, and non-profit employees may qualify for additional forgiveness under one or more of those programs. Of course, you'll want to make sure you use secure government websites to learn about the application process for each program.
The Bottom Line
Millions of Americans are eligible for student loan forgiveness through the president's upcoming debt relief program. However, borrowers should be on alert for potential scams. Don't respond to requests for your personal information from out-of-the-blue calls and emails.
Fact-check debt cancellation information you come across on secure government websites and report any potential scammers you encounter. That way, you can protect yourself from criminals aiming to take advantage of unsuspecting student loan borrowers while the program rolls out.