They say everything is negotiable. This is especially true when it comes to negotiating a lease of an apartment or condominium. From monthly rent to parking, too fees, perks, and policies, there is plenty you can negotiate on. Obviously, the best time to do this is before taking possession of your new place. However, successful negotiations require a bit of skill. Being a good negotiator takes some practice. You shouldn't expect to get everything you want, just because you're willing to ask. However, it's still worth trying. In this article, we look at how to negotiate a lease.
Step 1: Know The Market
Before embarking on a search for a new place to live, be sure to do some homework. You should have a general understanding of the current real estate market. For example, is it a "buyer's market" or a "seller's market?" You'll have a lot more success negotiating during a buyer's market, when competition for vacancies is lower. The good news is that the pandemic prompted an exodus of people from large cities. While we have sympathy for everyone affected, the economic impact of Covid-19 left a glut of rental vacancies in most cities. It created a true buyer's market. That puts more power in your hands, if you're looking for a new lease.
Whether you're searching for a new apartment or planning to renew an existing lease, you have the ability to negotiate. Especially in the current market. So start thinking about how to ask for a lower monthly payment, or additional perks like a free parking sport, lower fees, or free access to the building's fitness center.
Understanding the current state of the real estate market will help you understand where you stand. On the other hand, you might find yourself in a seller's market at some point in the future. In that case, your ability to negotiate goes way down. After all, the landlord can easily throw your rental application in the trash, in favor of someone else who isn't asking for any price breaks or freebies.
Step 2: Ask Questions
Speaking of landlords, don't be afraid to ask them questions. In fact, be prepared to to pump your prospective landlord for every tiny bit of information you can. Arm yourself with this knowledge before you start negotiating. Then you can start asking for potential changes or benefits. Having a good understanding of the building or unit you're considering will strengthen your ability to haggle. Remember that an apartment walkthrough is like a job interview. Be sure that you are the one interviewing the landlord, and not the other way around.
The Basics
At the very least, make sure you ask the following questions, in some form.
What fees do they charge and how will they be handled?
Is a security deposit required? If yes, how much is it? What are the terms for getting it back?
Is there a condo fee or any fees related to pets?
Is renter's insurance required to secure the apartment or condo?
Be sure that you have a handle on all the potential fees and what they will cost you.
What are the pet policies?
Speaking of pets, they can be a real roadblock in the renting process. Many places advertise as "No Pets Allows," even though it may actually be illegal for them to do so — it varies, based on local laws. If you have a pet, you need to find out the rules for potential new place. It may limit the vacancies available to you, so be prepared to widen your search.
Some buildings will allow pets, but have specific rules governing them. Some require pets to be registered with the building. Others simply want proof of the pet's immunization record. Some have more specific limits about exactly which animals (and of which sizes) are allowed. On the other hand, if you don't like animals (or are allergic), living in a building with cats and dogs might not be comfortable for you. Be sure to consider that in your search.
How is needed maintenance handled?
Who is responsible for undertaking needed maintenance? Is it the responsibility of the landlord or tenant? If it's the landlord, how much prior notice needs to be given to fix an item? How long does the landlord have to respond to a repair request? For that matter, it's worth asking who will take care of mowing the lawn or snow removal too, if applicable.
Speaking of maintenance, be sure to know the exact state of the unit before you move in. Our best advice is to take a thorough video recording while it's still empty. Highlight any potential defects — broken light switches, loose closet doors, dents or holes in the drywall. Ask your landlord to fix all of these things before you move in. At the very least, make sure you won't be held responsible for these defects when you move out.
Why is the unit vacant?
If a building is operated by a management company (as many are), try to get a sense of why the unit you're considering is vacant. Is it because of normal turnover? Or is there a leaky roof or some other problem?
Ask how long the company has been managing the building. You should also ask if the building has been recently sold or is up for sale? The last thing you want is to move into a new place and find out there are major problems with it that are prompting people to leave. Or even worse, to be forced out because the building has suddenly been sold to a new owner.
These are a few of the potential questions you will want to ask early on. The answers you get will help guide you in your negotiations. For example, if the landlord seems reluctant to answer your questions clearly, that can be a red flag. While you might not need to abandon that specific place entirely, it can give you some leverage to bargain.
Step 3: Identify Things To Negotiate
Once you have researched the local real estate market and asked questions, you will be able to identify the items you want to negotiate. While everything is technically negotiable, there will inevitably be some things you want to prioritize. For most people, those are the things that keep more of their money in their own pockets. However, you may have other priorities — like pet policies or parking allocations. Here are a few items to consider trying to negotiate on.
Rent
This is your biggest expense. Lowering it should be at the top of your agenda. While many people are intimidated to ask about lowering the monthly rent, remember that it never hurts to ask. In a buyer's market, you hold the power. If the landlord won't give you the price you want, you are free to look elsewhere. Another tactic is to try and negotiate one free month of rent. Many landlords will give in on this to close the deal. Remember, it's a drain on the landlord to have the unit sitting empty. Nothing ventured, nothing gained.
Duration of the Lease
The length of a lease can also impact your costs over time. If you plan to remain in one place for more than a year (the standard lease term), ask for a longer lease. It can help prevent those annoying rent increases after 12 months. Go ahead and ask for a 24 or 36 months lease, in exchange for a guaranteed fixed rent rate. Most landlords won't even mind, since they are more interested in keeping the unit occupied than haggling over rent prices. Having long-term, stable tenants is every landlord's dream. They cut down on costly vacant periods. Plus they don't require time and effort to showcase the unit to new potential renters.
Parking
If you own a car, having a parking spot is important. This is especially true in a big city, where street parking can be scarce and tickets expensive. If you will need a dedicated parking spot, be sure to ask for one upfront. Try to negotiate it to be included in the rent. If you have to pay a monthly fee for parking, negotiate to get it as low as possible. You can also ask for any potential upgrades. For example, can you get a parking spot in the covered and secure parking garage, as opposed to the open-air parking lot? Can you get a spot closer to the front door? Can you add a second parking spot for your roommate or partner, with no additional costs? Go ahead and negotiate for those perks.
Cleaning
By cleaning, we are not talking about vacuuming your carpets or scrubbing toilets. That's still going to be your job. We mean more serious and general cleaning, like outside window washing, cleaning the buildings lobby, protecting against insects or rodents, landscaping, and snow removal. These items are all important when it comes to maintaining a building. They can also be a safety issue. Negotiate to ensure that these types of professional cleaning will be undertaken — and not at your expense.
A Better Unit
You might not want to pay more for a better or bigger unit, but you should still ask. Go ahead and ask if there are other units available. If you prefer one over the there, ask if you can have it — for the lower (or reduced) price.
If there are no other vacancies at the moment, you can plan ahead. Negotiate a "right of first refusal" into your lease. That means that the landlord has to offer you a chance to move into a bigger (or newer) unit before they put it on the open market. Whether you need more space or just want a better view from your balcony, it can be worthwhile to plan for your next move during your current one.
Whatever your preference, don't hesitate to ask the landlord to give you a better unit for the same cost. You might end up being surprised by their answer.
Step 4: Take Your Time
There might be times when you need a place to live in a hurry. If you're moving to a new city to start a job, for example. However, if you're not in an urgent situation, then be sure to take your time to look around. Compare and contrast multiple apartments or condos. Think everything over and make an informed decision.
If you don't like the offer of one landlord, or find that they are unwilling to negotiate on anything, then go ahead and keep looking. Remember that time is your friend. Being being patient will often help ensure you end up in the most advantageous situation. Don't let an overly aggressive property manager pressure you into signing a lease before you feel ready. Take the time you need to feel sure about your new dwelling.
Step 5: Be Willing To Walk Away
"No" really is the most powerful word. Don't be afraid to say "no" if you are not confident that you are getting a good deal. If you're willing to walk away, you really will have all the power in the negotiations. Again, don't be pressured into signing a lease that you'll later regret. There is always another vacancy to check out. So don't hesitate to walk away from one if you have doubts. Listen to the little voice in your head and trust yourself. If you're not sure, it likely means that the apartment is not the right choice for you. Keep looking. And keep negotiating your way into a better financial position.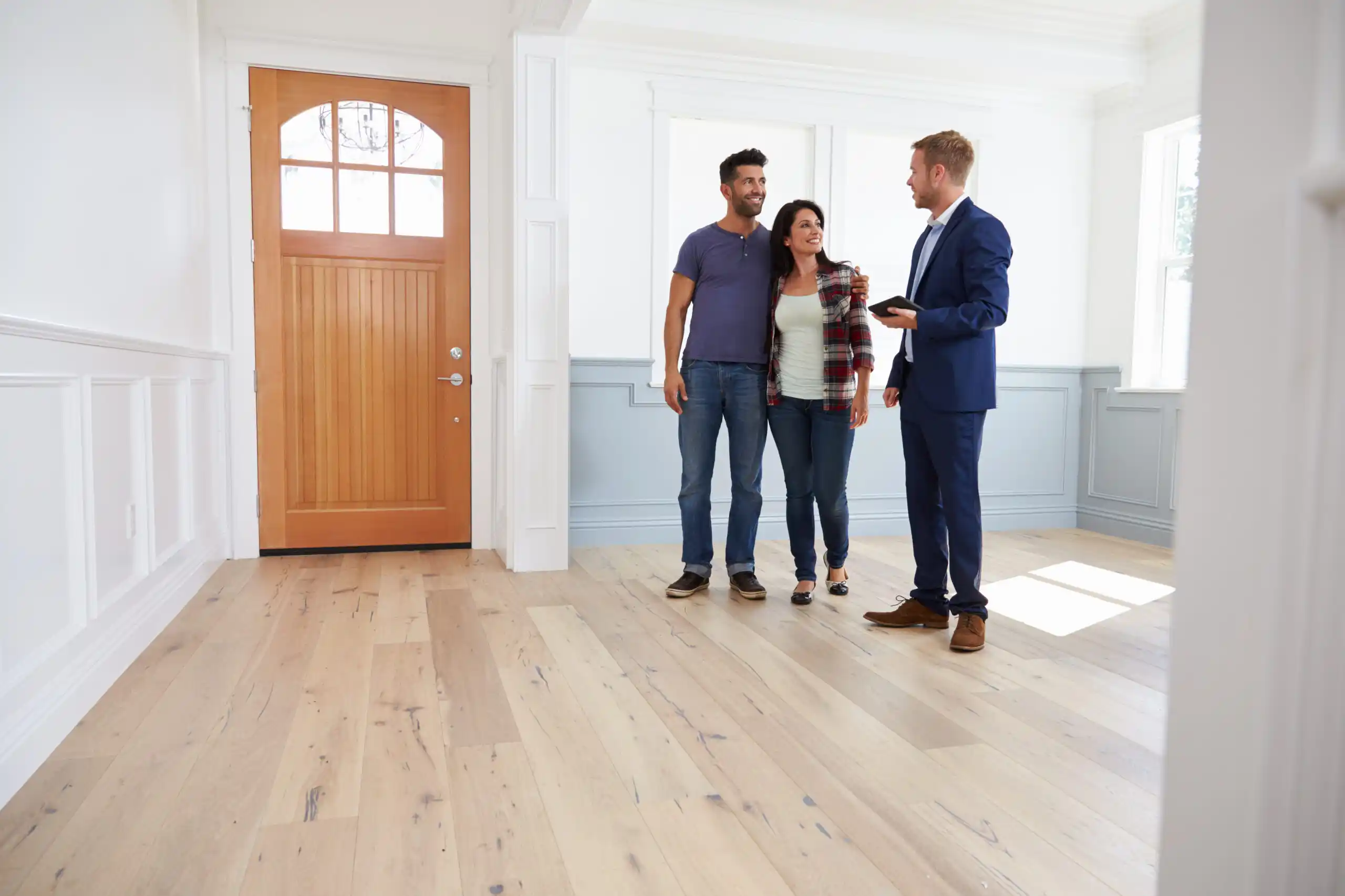 Shutterstock