Spending three months' worth of salary might be the rule of thumb, but is it necessary?
That depends on a variety of factors, including your financial situation and your partner's style.
When it's time to buy a ring, keep the 4Cs in mind: Cut, Color, Clarity, and Carats.
Engagement rings can be marked up 600% to 800%, so it can also help to get creative.
While the early days of the pandemic put the wedding industry mostly on hold, more and more people are tying the knot once again. Just last week, two of my friends announced their engagement. I don't dare to claim I know everything about why the ring is such a big deal. But I do know the engagement ring can generate a bigger conversation than the upcoming event itself.
Some say you need to spend three months' worth of salary on the rock. I have friends who make $100,000 a year. Do they really need to spend $20,000 to $25,000 on an engagement ring? Will the significant other really say no if they see jewelry that's not extravagant enough? As with most things finance, the choice is entirely personal. But what type of pressure are we putting on the person proposing?
The Engagement Ring Rule of Thumb
Let's talk about the rule of thumb first. The common recommendation is to spend three months' salary on an engagement ring. Like I said, some of my friends make six figures a year. While $25,000 sounds incredible to spend on jewelry, it's more incredible to expect someone making $3,000 a month to spend $9,000 on an engagement ring.
That's because someone making $3,000 probably can't afford to save an awful lot, especially if they live alone. That $9,000 could amount to years of savings. Are people really expected to start their financial journey from scratch again just because they want to commit to their relationship?
Yes, spending a fortune does, in a way, show how much they're willing to commit. However, it could drain the person's savings and bankrupt their future before their new life even gets started. Still, I guess that option might be better than borrowing money on a credit card to buy a ring. But is it necessary?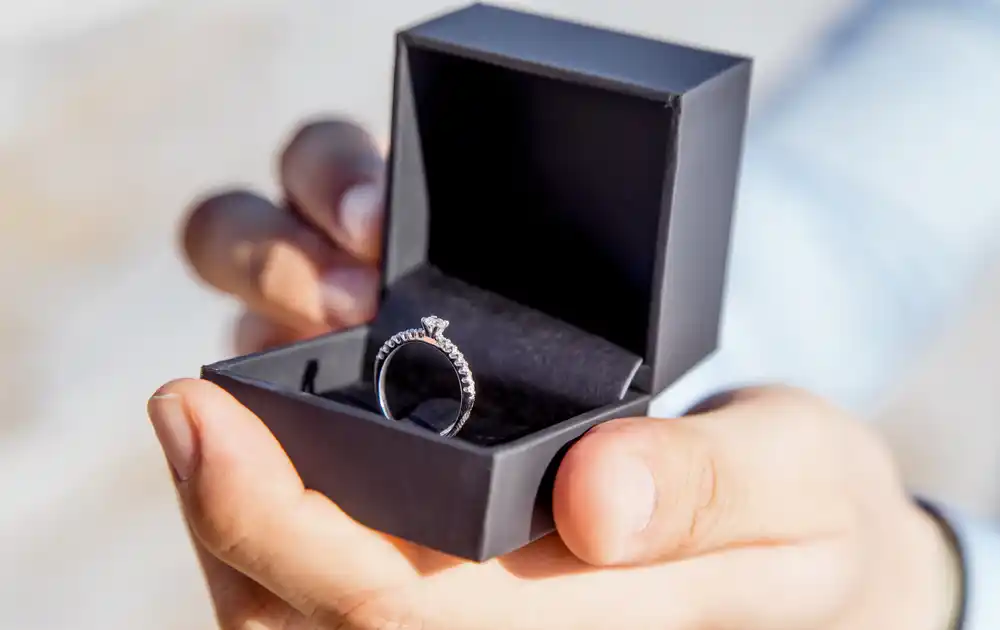 Shutterstock
Here's the Truth
The old "how else can three months' salary last forever" slogan? It's fake. Completely made up. It's nothing more than a marketing ploy invented by companies wanting you to spend more on their rings. That number is nuts to me, to be honest.
This rule of thumb means an engagement ring can cost as much as a car. That's crazy. Don't put yourself into a major financial hole just because some nifty advertising has swayed you. Do some math and make a choice that you can live with — and afford.
Otherwise, you could be turning the wonderfully life-changing event of marrying someone you love into a financially life-changing event that puts you into debt for years. You'll likely regret it, and the financial pressure could even create a rift between you and your spouse.
Where You Are in Life Matters
The three months' salary can make sense, I suppose, for young couples who are just starting out and share the financial responsibility. When my wife and I got engaged, I had just started working, and three times my monthly salary wasn't that much yet.
We were also moving in together, so we could save a good chunk on living costs. I also had practically no other expenses at the time, so it didn't take long for us to save up the amount I spent on the ring. Luckily, I could cover that amount without going into massive debt. That shortened the time it took to pay for the ring, too.
However, as people age, the amount that constitutes three months' salary also tends to go up. So, you need to ask yourself: Do you want to spend more on the engagement ring than on the whole wedding budget? Do you want to use your savings on jewelry, or do you want to use it to get a higher quality of life? And if you need to finance the ring, realize that it will cost quite a bit more by the time all the interest charges are figured in.
Consider Your Social Circle
Not everyone in the world is materialistic, but an engagement ring brings out materialism in many of us. And it's not limited to the engaged couple either. You have to remember that the person you want to marry will be showing everyone they know their finger for the foreseeable future.
What will friends say when they see the ring? Will they make comments about how the rock is too small and thus hurt your fiancé's feelings? On the other hand, if you get an incredibly expensive ring, will your fiancé's friends become jealous and resentful? Big purchases can sow the seed that ultimately leads to friends drifting apart.
You'd have a point if you suggested that people who have those types of friends might be better off without them. But the reality is that these thinly built relationships exist for all sorts of reasons, and people in them can get hurt when the separation happens.
Don't Overlook Family Expectations
Your fiancé's family will also chime in with their thoughts. No, I don't think they will abandon your significant other because of the size or price of the engagement ring you buy. But it can go a long way if you select a ring suitable for everyone's expectations.
Go too small, and their mom might worry that her child isn't marrying someone who cares enough. Go too big, and their dad might fear you aren't financially responsible. It may sound impossible to thread the needle, but the good news is that the sweet spot is pretty big for you to hit the mark — just spend some time thinking it through.
What To Look For When Ring Shopping
I remember my wife coming home one day and telling me how her coworker told a funny story about a store clerk suggesting a ring with a smaller diamond because their fiancé has small hands. While they told the amusing story because they felt they dodged an expensive bullet, the truth is that a diamond CAN look too big on certain fingers.
Don't worry if you still want to buy a nice ring because there are plenty of stunning but small diamonds. Many people who aren't into diamonds just see the size, but many qualities can make a diamond special. For instance, you may have heard of the all-important 4Cs.
Each diamond worth anything is graded by the Gemological Institute of America based on the 4Cs: Cut, Color, Clarity, and Carats. In fact, diamonds often come with certifications. So, if your ring doesn't come with one, then the diamond may be of lesser quality. While you're out shopping, carats only determine the size of the rock, so pay attention to the other 3Cs as well.
What Do You Value?
I've gone through this shopping trip, so I know a thing or two about high-priced jewelry. You can get a ring that costs $5,000 or one that looks practically the same that costs $10,000. In the moment, the sales associate might convince you that the second ring is worth twice the cost. But remember to take a beat and think about the bigger picture.
While someone who's really into these things can spot the difference right away, you need to decide if the person you're marrying will care. Plus, money is fungible. What you don't spend on the ring can still be put to good use for your new life together.
If things go as planned, the love of your life will be your partner in all things. Instead of spending that extra $5,000, you could use that money to plan your dream honeymoon, make a downpayment on a house, or save for children. Sure, a diamond is forever. But that's just another marketing slogan you shouldn't fall for!
Consider Your Fiancé's Style
Of course, what your fiancé values should also be considered. Are they expecting a huge rock? Would they rather have a smaller diamond that's higher quality? A huge rock might seem impressive, but a smaller one might make your fiancé feel more comfortable wearing the ring on a daily basis.
Additionally, do they even want a diamond? Or would a different jewel be even better? For instance, rubies and sapphires can be equally stunning. They aren't the stereotypical choice for an engagement ring. But colored stones might be a better choice if your fiancé likes being unique.
Get More Bang for Your Buck
To be sure, what you spend on your engagement ring also depends on what you can afford — don't lose sight of that. But it also depends on the effort you put into maximizing your budget. In my case, a friend of a friend ultimately hooked me up with diamonds bought at wholesale prices. Score!
I was also able to easily check prices internationally because my parents were in Hong Kong at the time. After all, better diamonds are internationally certified based on their cut, color, clarity, and carat, so you can compare prices from piece to piece.
Score a Discount With a Little Work
I did have to find a place to design the ring that the diamond would be set in. That was easy, though, since many jewelry shops can do that. In the end, I got a ring for significantly less money than I would've if I'd bought one retail. That's because I didn't have to pay a markup on the diamond itself.
And speaking of retail markup, my research indicated that diamond rings often come with a markup of anywhere from 600% to 800%. Yikes! Doing a little legwork can save you a bundle. You'll also learn a great deal about diamonds in the process. You can even impress friends with helpful advice when it's their time to propose.
The Bottom Line
Ultimately, you need to decide what's important to you and your partner, and then go from there. I don't care about flashy jewelry. And my wife wanted something decent but didn't need the best-of-the-best bling. That's why it made sense for us to buy a good quality ring that wasn't over the top.
But everyone is different. While an expensive ring is a must for some, it's just a formality that doesn't make sense for others. Before you spend any money on a ring, consider whether or not it's really that important to you and your fiancé. If it's not, then following some made-up rule of thumb is just throwing money down the drain.
If it is though, then seriously weigh the pros and cons of spending big money. Keeping that money in your savings might be the better choice.