You've probably noticed your grocery bill increasing over the last year.
Experts predict grocery prices will increase between 7% and 8% in 2022.
Beat inflation with these strategies to save money at the supermarket.
Inflation is making grocery shopping more expensive than this time last year. According to the April 2022 Consumer Price Index, the price of groceries soared by nearly 11% in one year. And prices are expected to keep rising.
In fact, the U.S. Department of Agriculture's Food Price Outlook predicts grocery prices will increase between 7% and 8% in 2022. Fortunately, there are several ways to cut your grocery store costs. Here are creative ways to avoid overspending, earn cash-back, and more.
Use Cash-Back Apps
If you think couponing is a thing of the past, then think again. Cash-back apps are essentially a new source of coupons. Instead of clipping coupons out of newspapers, simply browse offers from nearby grocery stores and take advantage of available rebates.
Ibotta and Checkout 51 are popular cash-back apps to consider using. According to CNBC, "the average Ibotta user earns between $10 and $20 a month." However, the source says especially active users can earn $100 to $300 cash-back per month.
Beware of Shrinkflation
Shrinkflation is a sneaky way that companies increase prices. Instead of raising the sticker price, they reduce how much product you get. For instance, say a bag of chips now has 36 chips instead of 40. If the sticker price stays the same, then you're effectively paying 10% more.
AARP found a few examples recently: Charmin Ultra Soft Super Mega Rolls now have 30 fewer sheets and the family size of Keebler's Chips Deluxe with M&Ms Cookies is now 2.6 ounces smaller. Savvy shoppers should compare the unit price of different brands to find the best value.
Cut Back on Certain Products
Inflation is driving food prices up across the board, but some items have especially soared in price. For example, the April 2022 Consumer Price Index says eggs are about 23% more expensive than a year ago. And meat has also jumped in price.
Bacon is 18% pricier, ground beef is 15% pricier, and chicken parts are 18% pricier. So, you may want to skip or cut back on meat and eggs. Other significant price increases include milk and citrus fruits — the former by 15% and the latter by 19%.
Shop Your Pantry First
Before heading to the grocery store, take inventory of everything you already have. Check your pantry, fridge, and freezer. After all, staples like canned goods and frozen vegetables can get lost in the shuffle. If you assess what you already have, then you can avoid accidentally buying duplicates.
And you might be able to take other things off your list. For example, perhaps you discover spaghetti noodles, tomato sauce, and frozen ground beef you forgot about. That's dinner right there. As a result, you can cross off one night's worth of groceries. Plus, there's less chance of food expiring before you use it.
Use a Grocery Rewards Card
Swiping the right credit card is another way you can save on groceries. For instance, CNBC says you can earn up to 6% cash-back at supermarkets with a grocery rewards card. American Express and Visa both have options.
If you buy many groceries at big box stores, then you might want to get a store credit card instead. That's because grocery rewards cards often exclude Target and Walmart. So, you might benefit more from a cash-back store credit card.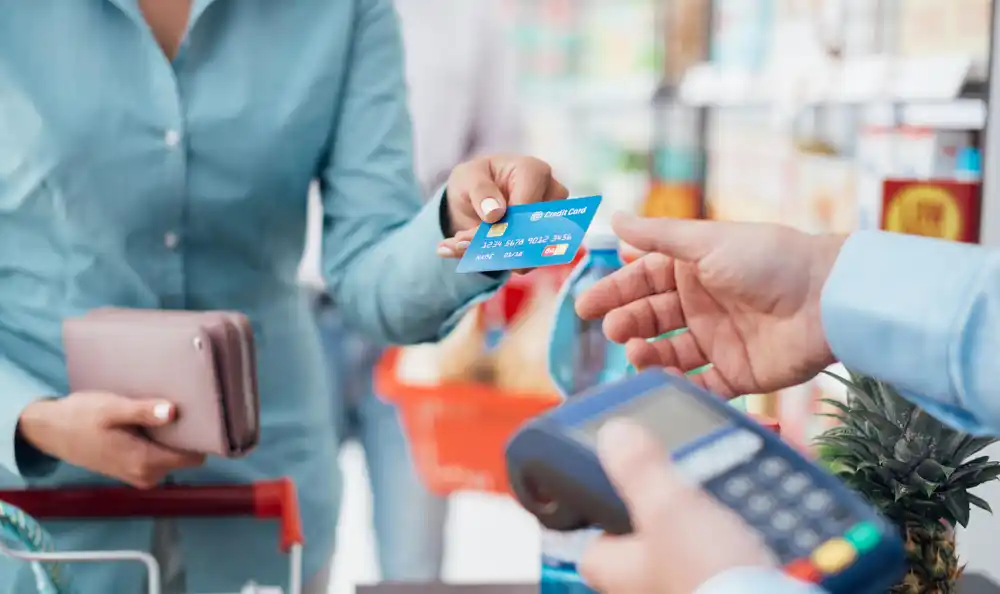 Shutterstock
Spend Less on Produce
Healthy eating has a reputation for being expensive, but you don't have to spend a fortune on produce. Instead of strictly buying fresh produce, make a beeline for the freezer aisle. Frozen fruits and vegetables not only last longer but also cost less.
In fact, Forbes says frozen foods can be 50% cheaper than their fresh counterparts. If you do buy fresh produce, then be sure to use the crisper drawer. CNBC says produce such as carrots and cabbage can last two weeks or longer in a crisper drawer.
Look for Discount Opportunities
You can also cut grocery costs with a few tried-and-true methods. For one thing, sign up for your grocery store's loyalty program. While programs vary from one grocery store to the next, they're typically a good way to score deals on groceries, toiletries, and sometimes even gas.
Additionally, you can save money by buying store-brand products instead of name-brand products. And, of course, don't overlook old-fashioned coupons. Many grocery stores make their coupons available online, so you can easily print them out before heading to the store.
Use a Vacuum Sealer
According to Forbes, a 2020 study shows "the average U.S. household wasted 31.9% of its food." The study estimates that this waste costs $1,866 per household. But investing in a vacuum sealer can help you cut down on food waste and get your money's worth.
Vacuum sealing perishable food can help it last longer, so you're more likely to eat it before it goes bad. Additionally, a vacuum sealer can enable you to buy in bulk. Buying food in bulk can be cheaper, but only if the food stays fresh. You can also vacuum seal leftovers for another meal.
Stick to Your Shopping List
Before going to the grocery store, make a shopping list — and stick to it. If you have a plan and know what you need, then you're less likely to overspend. Don't treat grocery shopping like a "shopping experience." In other words, don't buy things on a whim.
When writing your list, be sure to take inventory of your pantry, fridge, and freezer. As previously mentioned, that'll help you cut down on waste and avoid buying duplicates. And don't go grocery shopping hungry. That can lead to overspending on impulse buys.
Allow a Weekly Splurge
While you want to avoid impulse purchases, that doesn't mean you have to completely deprive yourself in order to stay on a budget. As a matter of fact, picking a weekly splurge can help you avoid buying treats impulsively throughout the week.
For instance, buying a pint of ice cream could satisfy your sweet tooth for several nights and keep you from spending more at ice cream shops. Or perhaps you're more into good coffee. If buying a slightly pricier coffee blend at the grocery store keeps you from spending at coffee shops, then that's good for your bottom line.