A beach vacation might seem like a luxury, but you can plan an incredible getaway on a budget.
Instead of pricey places like Maui and Miami, consider lesser-known beach towns.
We've put together a list of 12 cheap beach vacation ideas across the U.S. and its territories.
There's nothing like a beautiful beach to get your mind off the hustle and bustle of daily life. Whether you're planning a family vacation, romantic getaway, or solo trip, the beach is a wonderful destination. Just picture yourself taking long walks on the beach, playing in the sand, and splashing in the water.
If you think a beach vacation requires a big budget, then think again. There are cheap beach vacation spots in every corner of the country. So, you can probably find something close enough for a road trip if you want to save on airfare. Here are 12 beach destinations that are affordable and beautiful.
Pensacola, Florida
You don't have to break the bank to enjoy a sunny Florida vacation. In fact, you can find great deals if you venture a bit off the beater path. Instead of a resort town, consider Pensacola, Florida. It's a charming beach town with a lot to offer — white-sand beaches, delicious seafood, and affordable hotels.
There are several economical hotels right along Pensacola Beach, but you can save some extra money by choosing a hotel in town. Of course, that could put you about 15 to 20 minutes away from the beach. If you're looking for something unique to do, then catch a Blue Angels air show or visit Historic Pensacola Village.
Myrtle Beach, South Carolina
Myrtle Beach is a lively beach town with sandy shores, nightlife, and family fun. The city's full of amusement parks, water parks, and 50 mini-golf courses. They don't call it the "miniature golf capital of the world" for nothing. And the vibrant downtown has clubs, karaoke, and live music venues.
Plus, it's an affordable destination. For instance, you can find low-priced flights and lodging. Vacation Myrtle Beach says, "It's not uncommon to find Myrtle Beach resorts with nightly rates under $100." So, you can get the fancy resort experience without the fancy resort price.
Cannon Beach, Oregon
The Oregon Coast proves that not every beach getaway needs to involve bikinis. While the temperatures tend to be a bit too chilly for swimming and sunbathing, the rugged and sandy coastline is a sight to behold. Throw on a sweatshirt and explore the sandy shores or hike through lush forests.
Beyond nature, Cannon Beach also has quirky boutiques, antique stores, and art galleries. Plus, it has friendly cafes and coffee shops. Grab a cup of joe and head over to Ecola State Park for a day of affordable adventure — it'll only cost you a $5 parking fee. As for lodging, you can find good-value hotels and rentals if you look.
Corpus Christi, Texas
Let's mosey on down to Texas for our next budget beach getaway: Corpus Christi. While Texas has several cheap vacation spots, Corpus Christi rises to the top thanks to its gorgeous beaches. Stay only minutes away from one of those beaches at an affordable local or chain hotel.
And while you're exploring the miles of shoreline, take in some local surf culture. That's right — you don't have to visit California or Hawaii to catch a wave. Check out the free Texas Surf Museum when you're ready for a break. Other inexpensive attractions include botanical gardens and the USS Lexington Museum.
Huntington Beach, California
California might not be the first place that comes to mind when you think of cheap vacation spots, but there are good deals to be found. Take Huntington Beach, for example. The laid-back beach town can be a budget-friendly alternative to hot spots like Santa Monica and Malibu.
Spend your trip soaking up the sun while walking along the beach, boardwalk, and downtown. Go swimming, whale watching, horseback riding, or surfing. It is "Surf City USA," after all. And after all of that fun, enjoy plenty of affordable dining options, from taco shops to ice cream shops.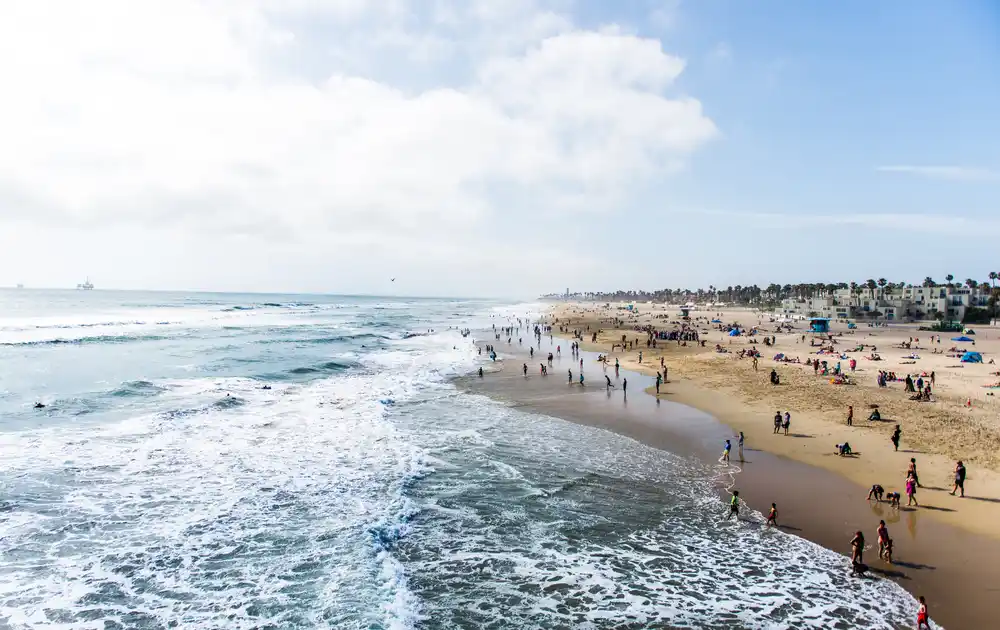 Shutterstock
Ocean City, Maryland
If you want a charming throwback, then check out Ocean City. The quaint beach town offers a taste of the past. For instance, there's the three-mile boardwalk that dates back to 1902. And then there's Trimper Rides, one of the oldest continuously-operating amusement parks in the country.
Snack on fries, caramel corn, and funnel cake. Play old-timey arcade games and take a spin around a 110-year-old carousel. And, of course, hit the beach. Additionally, Ocean City has a wide selection of affordable lodging — even along the coast. And if you're feeling adventurous, consider nearby campsites instead.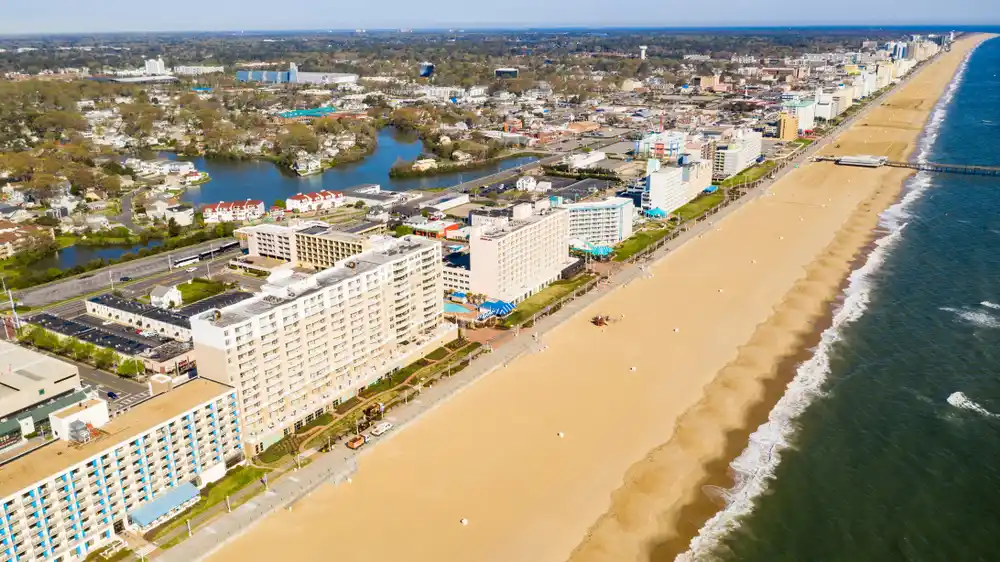 Shutterstock
San Juan, Puerto Rico
Caribbean vacations can be pricey, but you can still take a trip to Puerto Rico without spending a fortune. San Juan, in particular, is a great choice for a few reasons. Firstly, you can fly direct to San Juan from several cities around the U.S. on low-cost flights. Secondly, it has extensive lodging options beyond luxury resorts.
For instance, the city has a lot of hostels and chain hotels. Thirdly, San Juan has a rich history to explore. Visit Spanish forts and admire the Spanish Colonial architecture around Old San Juan. And last but not least, San Juan is a great choice because of its warm Caribbean waters and stunning beaches.
Coeur d'Alene, Idaho
Beautiful beaches aren't limited to oceanfront cities. Coeur d'Alene's free city beach is a wonderful spot to take a dip in the lake, build sandcastles, or soak up some sun. The beach is part of a 17-acre park next to the city's cute downtown. In addition to the beach, the park has an adorable playground, sports courts, and picnic spots.
While the city is known for the Coeur d'Alene Resort, several affordable chain hotels are relatively close to the water. And if you're looking for a memorable 4th of July spot, Coeur d'Alene puts on a spectacular fireworks display that won't cost you a cent to watch. Plus, an affordable amusement park is nearby for more family fun.
Marquette, Michigan
To those unfamiliar with Marquette, a beach vacation in the Midwest might seem unexpected. But Marquette makes a beautiful beach getaway. Whether you want to walk barefoot on the sand or collect rocks, you're in luck. The city has sandy beaches as well as rocky beaches on Lake Superior.
If you want some outdoorsy adventure, then you can go kayaking, paddleboarding, canoeing, or hiking. Marquette is also known for its waterfalls — 77 in total, according to Travel Marquette. And you can find good deals on lodging at budget-friendly hotels and campsites. Plus, Marquette has several food trucks for affordable dining.
Gulf Shores, Alabama
Alabama's Gulf Shores is a gorgeous spot to enjoy white-sand beaches and ocean breezes on the Gulf Coast. When you aren't splashing in the ocean or walking on the beach, visit the zoo or water park. If you like golfing, then check out the city's many coastal golf courses.
Families who want to spread out and cook some of their own meals will appreciate that Gulf Shores has affordable vacation rentals. The city also has its share of budget hotels if that's more your style. One thing to keep in mind: Hotels.com says Gulf Shores is incredibly busy at spring break, so you may want to avoid that timeframe.
Biloxi, Mississippi
Next up: another Gulf Coast getaway. While it isn't the only beach destination in Mississippi, Biloxi stands out. It has white-sand beaches, warm swimming waters, and plenty to do when you want to get out of the sun. For instance, it's home to 11 casinos. Biloxi also has family-friendly sites like the Biloxi Lighthouse and historic homes.
Biloxi Beach, of course, is the highlight. It's a great spot to spend the day on the beach. Besides swimming and lounging, there are several other activities to consider, including boat tours and fishing charters. As for lodging and dining, you can find hotels, rentals, and restaurants that won't break the bank.
Lake Chelan, Washington
Let's head back up to the Pacific Northwest for the next affordable vacation spot. Lake Chelan is a beautiful beach getaway in Washington state. It's not only a great swimming spot but also a popular fishing destination. Mountains surround the lake, so it's also a wonderful place to go hiking.
Lake Chelan has a range of reasonably-priced lodging options, including campsites, hotels, and rentals. And there are inexpensive and mid-price restaurants to satisfy your appetite. Since Lake Chelan is in the PNW, those who want to swim should visit in the summer or early fall. However, it's gorgeous to look at any time of the year.