If that "For Sale" sign has lingered in front of your house for too long, then it may be time to revamp your selling strategy. That's because time is of the essence. Generally, the longer a house sits on the market, the less money it fetches.
According to Realty Times, a National Association of Realtors survey found that houses sell for the most money within two weeks. So, it's worth figuring out why your house hasn't sold yet. Here are eight possibilities to consider.
No Curb Appeal
Since first impressions matter, curb appeal is everything. In fact, the National Association of Realtors says 99% of its members "believe curb appeal is important in attracting a buyer." And buyers are willing to pay 7% more for a house with curb appeal, according to a HomeLight survey.
Consider renting a pressure washer to deep clean everything from the siding to the sidewalks. Small touches like painting the front door an eye-catching color, adding well-maintained planters, and doing basic yard care can also help. HomeLight says the ROI of the latter is 539%.
The Price Isn't Right
According to Quicken Loans, overpricing is the most common reason a home lingers on the market. But how do you know when your price is too high? Well, buyers might comment on the price when they visit.
However, it might not be that obvious. Bankrate offers two telltale signs: "little traffic and no offers" or "good traffic but lowball offers." If you've noticed either pattern, then it may be time for a price change.
An experienced real estate agent can help you assess your pricing strategy. For instance, they can help you decide when to reduce the price, how much to reduce the price, and how many times to reduce the price.
Current Renters
While having tenants in place may be attractive to some buyers, it can turn off others. If you're marketing the house as a potential single-family home, then renters can especially be a hindrance.
After all, tenants can make scheduling showings tricky and make it challenging to keep the property in tip-top shape. That's why it can be wise to end rental agreements before listing a house.
Of course, that's not an option if the house is already on the market. You may be able to negotiate a deal with the renter to get them to move out early. If not, then there are other things you can do.
For example, consider hiring cleaning and yard services to make sure the house looks pristine. Also, consider providing coffee shop gift cards to give renters somewhere to go during showings.
No Staging
Curb appeal isn't the only aesthetically-related factor that could be holding your house back. You also want to assess the interior with a critical eye. Buyers need to envision themselves living there — and that's hard to do with clutter and visible personal belongings.
While you might see people hire professional stagers on television shows, you can take things into your own hands. Consider renting a storage unit to stash bulky furniture, exercise equipment, and personal belongings. You want the home to feel open and bright.
Poor Showings Strategy
Successful showings are essential in order to sell a house. Sure, it can be annoying to keep the house showing-ready at all times and to vacate the premises at a moment's notice. But that may be what it takes.
If you've limited showings to specific hours for appointments, then that may be why your house has yet to sell. Consider allowing off-hour showings like nights and weekends to accommodate more buyers.
It's also important to refrain from being a helicopter seller who hangs around during showings. If the seller is present, then buyers can feel awkward and have a hard time envisioning the house as their own.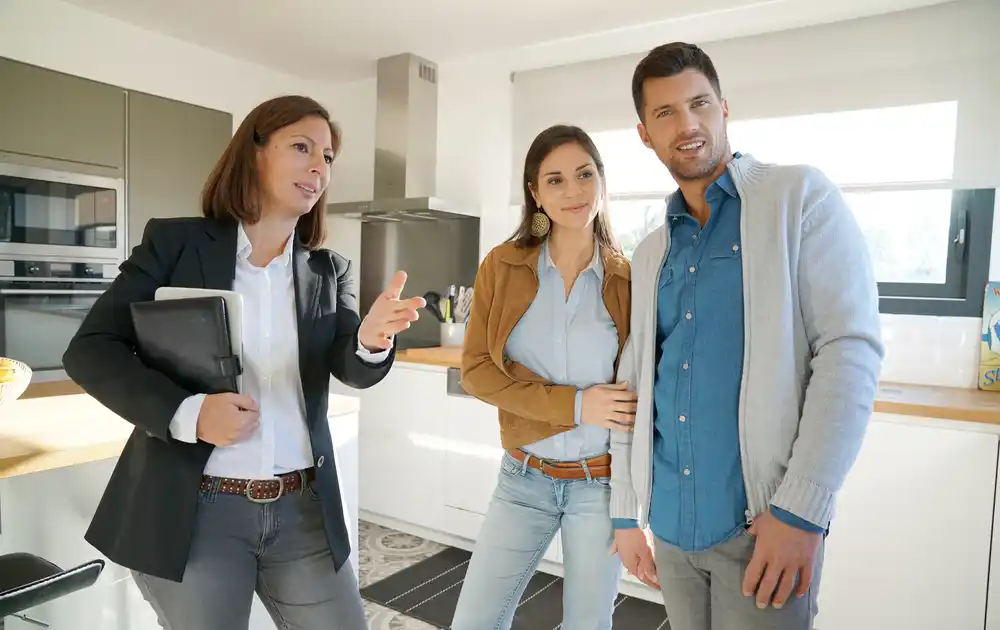 Shutterstock
The Listing is Humdrum
Amazing curb appeal and interior staging aren't always enough in the digital age. You need to make sure your online listing captures both aspects in a way that encourages potential buyers to schedule a showing.
So, consider investing in professional photography and video tours. Also, take some time to put real effort into the listing description. It should be a love letter to the house that highlights the lifestyle it provides.
According to the National Association of Realtors, 51% of buyers find the home they purchase on the internet. That makes the online listing an important part of the selling process. Be sure it's doing its job well.
Wear and Tear
General wear and tear is another reason houses linger on the market. For instance, things like old roofs and appliances can scare off potential buyers. Chipped and faded paint jobs can do the same.
If you haven't updated those sorts of things in the last decade, then wear and tear could explain why your house is still on the market. Take a close look around your property to see if anything needs to be refreshed.
Not a Good Time To Sell
It's also possible that your house hasn't sold simply because it isn't a good time to sell. Perhaps your home has oodles of curb appeal and looks amazing online and in person. But it can be hard to overcome poor timing.
Spring and summer are typically better times of year to sell a house, so homes that go on the market in the fall and winter may be more likely to linger. Zillow suggests putting your house on the market between March and Labor Day.
Signs You Need a New Approach
Generally, the faster a home sells, the more money the seller gets for it. According to his analysis, Massachusetts realtor Kevin Vitali says homes sold within 10 days sold for 101.3% of their asking price. That amount dropped to 97.6% of the asking price after 120 days.
So, the stakes are high to recognize that your initial approach isn't working as soon as possible. You don't want to miss out on tens of thousands of dollars. As mentioned earlier, "little traffic and no offers" or "good traffic but lowball offers" are two noteworthy trends.
Both patterns can be signs that something needs to change. While price is one of the likely culprits, it isn't always the thing standing in the way of selling a house. Consider consulting with a real estate expert to assess your current approach and identify possible adjustments.
The Bottom Line
Even though it can be discouraging to watch your house sit on the market for an extended period of time, try not to get down about it. Instead, let it motivate you to make the necessary adjustments to sell it quickly and for a good price.
An experienced real estate agent can help you take stock of the situation and strategize. It may even be time to take your home off the market, make changes, and relist with a new agent. Remember, it's never too late to find the right approach.