Key Takeaways
If you're considering moving or investing in property, then you may want to look at how much homes are currently selling for vs. how much experts would expect them to go for.
From Washington state all the way to Flordia, there are housing markets overvalued by as much as 70%.
Those who can avoid buying a home in one of these 12 cities may want to until the market settles.
While the overall housing market may be cooling, some markets are still significantly overpriced. In fact, some markets are about 70% overvalued right now. When home prices are that out of sync with expected prices, buyers may want to hold off. That's because prices may fall or become stagnant as the market settles.
That could spell trouble for anyone who resells the property sooner rather than later. With this in mind, Florida Atlantic University (FAU) and Florida International University (FIU) compiled data to identify where buyers are overpaying the most. Here are 12 housing markets that are overvalued by more than 50%.
Boise, Idaho: 70.76% Overvalued
Even before the pandemic, Boise was a popular choice for homebuyers looking to escape expensive big city living. For instance, Boise State Public Radio says it was the nation's fastest-growing city back in 2018. And things have been especially booming the last couple of years.
Unfortunately, that increased demand has driven home prices way up. Based on Boise's pricing history, FAU/FIU says homes should cost an average price of $302,449. However, the typical homebuyer is shelling out $516,468. Ouch.
Austin, Texas: 67.97% Overvalued
Austin is another city that's been on people's radar for a few years. After all, the city is a burgeoning tech hub. TechCrunch says industry giants like Google, Amazon, and SpaceX all have secondary offices in the city. Some think of it as Silicon Valley without the astronomical price tag.
But Austin is quickly becoming the next Boise. While historical data would suggest homes should cost an average price of $356,919, FAU/FIU says buyers are paying an average price of $599,525. That pushes it close to the 70% overvalued territory.
Ogden, Utah: 64.44% Overvalued
Ogden might not have the name recognition of other cities on this list, but that could change soon. Located about 40 miles away from Salt Lake City, the charming mountain town is close to the big city. Perhaps that's part of its appeal.
Home prices have soared so much higher than expected that FAU/FIU says the typical buyer is paying $538,863 instead of $327,698. That's quite the premium! Of course, Ogden has a lot going for it: opportunities for skiing and hiking make it an outdoor playground.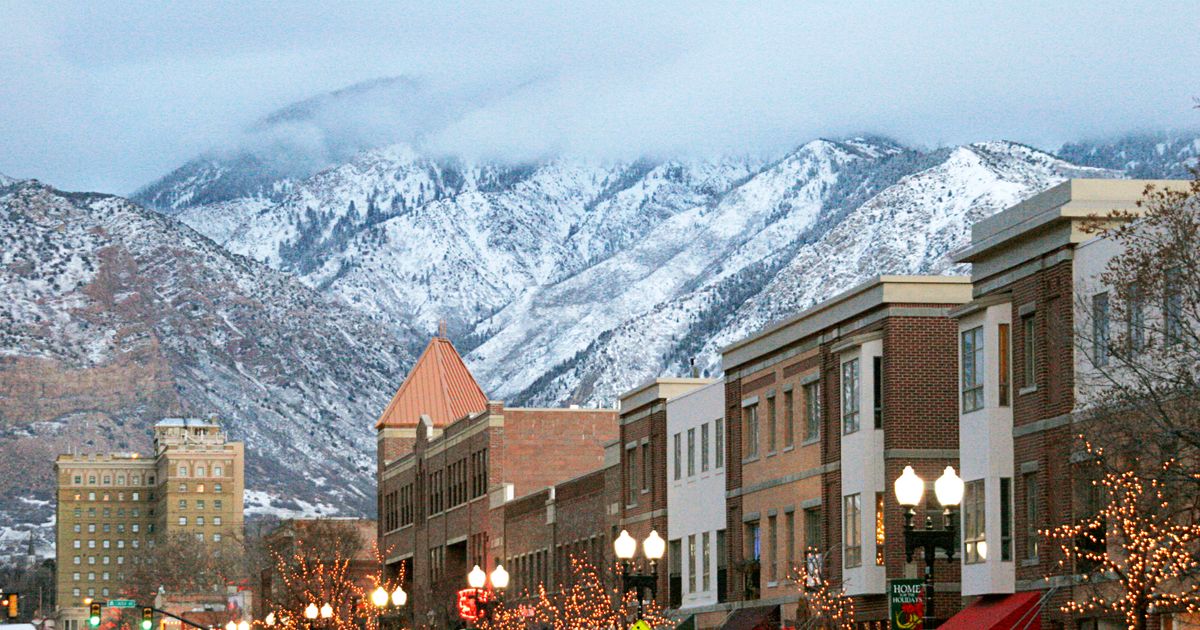 Getty
Las Vegas, Nevada: 63.20% Overvalued
Las Vegas is also a sought-after city among those relocating from elsewhere in the country, especially historically expensive housing markets. As a matter of fact, realtor Jennifer Graff tells FOX5 Vegas that 80% of her clients are based in California, the Pacific Northwest, and the Midwest.
And to top it off, Graff says many of them are cash buyers. So, bidding wars and waitlists have become common. However, the state of the market is starting to change. Recently, there were 1,300 price decreases, according to the source.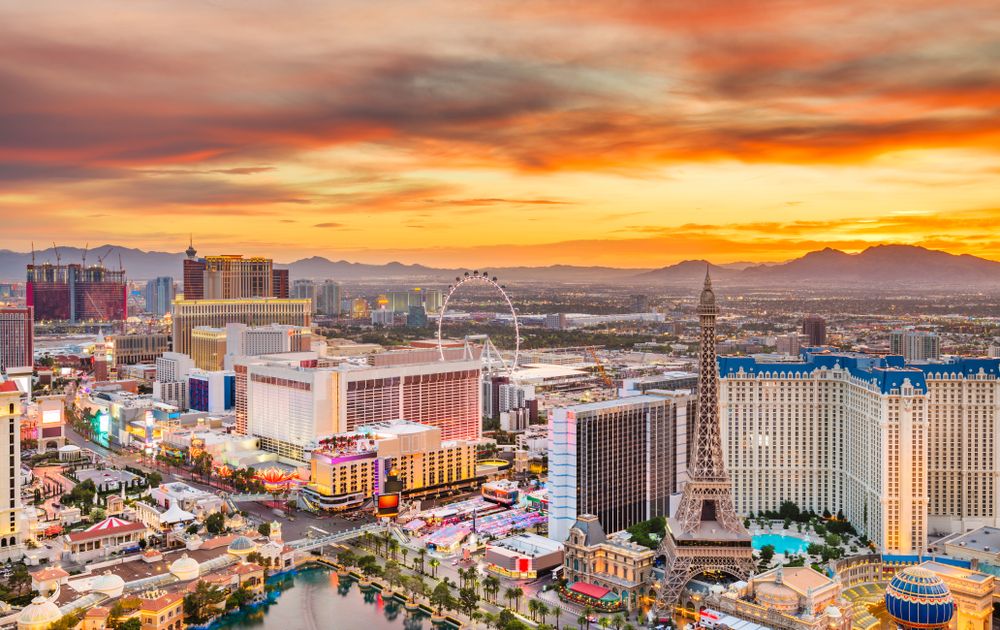 Shutterstock
Atlanta, Georgia: 59.84% Overvalued
According to WABE, Atlanta is a growing city with "tremendous in-migration" and "tremendous job growth." As a result, there's great demand for housing, and prices have soared. The source says home prices increased 20% in the last year.
Corporate investors have made it difficult for individual buyers to crack into the Atlanta housing market. The source says that's because they can often afford to wave inspections and pay in cash. So, those without deep pockets may want to avoid the market for now.
Fort Myers, Florida: 59.57% Overvalued
While disaffected Californians have been drawn to places like Boise and Las Vegas, unsatisfied East Coasters have been eyeing Florida. Insider reports 900 people a day moved to Florida last year — and many of those new residents hail from New York and New Jersey.
According. to The New York Post, the trend is still in full swing. The source expects even more people to make the move this year if current trends hold. Unfortunately, those wanting to make Fort Myers their new home must contend with a significantly overvalued market.
Phoenix, Arizona: 59.41% Overvalued
Phoenix is another hot housing market that's about 60% overpriced. That may have something to do with how many millennials want to call it home. According to SmartAsset, it's the third most popular city for relocating millennials.
So, the city appeals to both snowbird retirees and warm-weather-seeking millennials. If you're among the folks who want to make it their new home, then prepare to pay a premium. FAU/FIU says the typical buyer is spending about $180,000 above the region's expected long-term pricing trend.
Provo, Utah: 58.25% Overvalued
Ogden isn't the only Utah city that makes the list. Provo is similarly overpriced. Based on Redfin data, Deseret News says "home prices went up by a staggering 65.7% in Provo to a median price of $550,000" from May 2020 to May 2022 — and they remain high in summer 2022.
It's become a hotspot for out-of-town homebuyers looking to relocate, but the market is starting to turn. The source says Provo "saw the highest share of listing price drops in May" across the nation. So, it may become a more affordable market in the near future.
Charlotte, North Carolina: 57.50% Overvalued
According to The Charlotte Observer, Charlotte is another growing city with many new residents competing to put down roots. Even interest rate hikes may not slow it down anytime soon because its housing inventory is so lacking. That means buyers with their hearts set on Charlotte should get ready to act fast.
As Charlotte realtor Genevieve Williams tells the source, "It's brutal out there for buyers. If you're not prepared, then you're just not even really going to have a chance." Of course, you may want to avoid the market for now and look elsewhere if at all possible.
Salt Lake City, Utah: 56.85% Overvalued
Since both Ogden and Provo are close to Salt Lake City, it probably won't surprise you that Salt Lake City is likewise overpriced. KSL News says Californians and residents from other western states are driving an influx of new residents. Those newcomers find themselves competing for limited real estate.
Redfin calls the Salt Lake City housing market "very competitive." Many homes get multiple offers and sell above the asking price, according to the source. And some buyers even waive contingencies as part of the deal. However, Deseret News says Salt Lake City is another Utah city seeing slashed prices recently.
Spokane, Washington: 56.31% Overvalued
Spokane certainly isn't the biggest city in the Pacific Northwest, but it has one of its hottest housing markets. In fact, Redfin rates its housing market as "most competitive." Spokane's not too big, not too small size is part of its appeal. As Greater Spokane CEO Alisha Benson tells KXLY, "we're big enough but small enough."
That means Spokane combines a small-town vibe with big-city amenities like great dining and entertainment options. Unfortunately, FAU/FIU says demand has led to the typical buyer spending more than $160,000 above the expected price based on the city's long-term pricing trend.
Lakeland, Florida: 56.10% Overvalued
Located about 36 miles away from Tampa, Lakeland is another Florida housing market that's significantly overpriced right now. FAU/FIU says homebuyers are shelling out about $100,000 more than the expected price based on Lakeland's pricing history.
To put it another way, the average house is going for about $300,000 instead of $200,000. According to ABC Action News, FAU/FIU's data found Lakeland was the state's most overpriced housing market earlier in the year. So, the market has been overvalued for some time now.