Want to buy land as an investment or to live on? You might be under the impression that land is expensive, but that isn't always the case. You just need to know where to look. Using data from Zillow, Lands of America, LandWatch, and LANDFLIP, Compass Land USA zeroed in on the cheapest places in the U.S. to buy an acre of land.
Here are nine counties across the country where you can buy land on a budget. Of course, it's important to do your due diligence before purchasing land. That's why you'll find a helpful land buying checklist at the end.
Valencia County, NM
Cheapest price per 1 acre: $799
Located next to Bernalillo County — where Albuquerque is — Valencia County is close to a metropolitan area. Some places with cheap land are rather remote, so proximity to a large city is something Valencia definitely has going for it.
Additionally, it's near Manzano Mountains State Park, Petroglyph National Monument, and Cibola National Forest. So, it could be a smart investment. If you keep an eye on vacant land listings, then you might score a great deal here.
Polk County, FL
Cheapest price per 1 acre: $1,599
According to The Citrus County Chronicle, Polk County is one of the fastest-growing counties in the nation. As a result, it could be worth your time to research available land. You might nab investment property for a bargain.
Lakeland, a small city, is located within the county. So, there are more nearby entertainment options than you might expect. Polk County is also about an hour away from Tampa and less than two hours away from Orlando.
Mohave County, AZ
Cheapest price per 1 acre: $1,499
Mohave County brushes against the border of three states — Nevada, California, and Utah. In fact, Las Vegas is only about an hour away from parts of the county. It's also a mere road trip away from the majestic Grand Canyon.
All of that makes this slice of Arizona a potentially savvy investment even though the county itself is relatively rural. Land tends to be affordable here, so scour listings to see how good of a deal you can get right now.
Jasper County, MS
Cheapest price per 1 acre: $1,251
Located less than an hour and a half from Jackson, Jasper County is in a rural part of the state with a few small towns. According to the Jasper County website, it "offers peaceful, gracious country living" and "beautiful lands available for building homes with acreage."
Additionally, it has nearby recreational areas such as Bienville National Forest and Clarkco State Park. If you're interested in investing in Mississippi property, then Yahoo says relatively cheap land is also available in Pearl River County and Lincoln County.
Navajo County, AZ
Cheapest price per 1 acre: $1,400
Navajo County is another location in Arizona known for inexpensive land. It's located in the Northeast part of the state and relatively close to Flagstaff. Road trip destinations include the Grand Canyon, Phoenix, and Albuquerque.
It also has recreational activities, including golfing, fishing, hiking, and camping. And then there's the mild weather, which Best Places says tends to be cooler than the rest of the state. So, it could be a retirement or vacation spot.
Luna County, NM
Cheapest price per 1 acre: $1,450
Located in the Southwest part of New Mexico, Luna County sits right above Mexico. "The entire region is filled with wildlife, flowers, desert plants, incredible rocks and minerals," according to the Luna County website.
The small city of Deming is located within the county, and larger Texas and Arizona cities like El Paso and Tucson are a road trip away. Mesilla Valley Bosque State Park and White Sands National Park are also nearby destinations.
Apache County, AZ
Cheapest price per 1 acre: $1,225
If you're interested in buying cheap land in Navajo County, then Apache County should also be on your radar. It's similarly located in the Northeast corner of the state and offers the same potential for affordable land.
Apache County borders three states — New Mexico, Utah, and Colorado. So, it's a convenient spot for folks who love to hit the open road and explore different states. Plus, natural wonders like Petrified Forest National Park are nearby.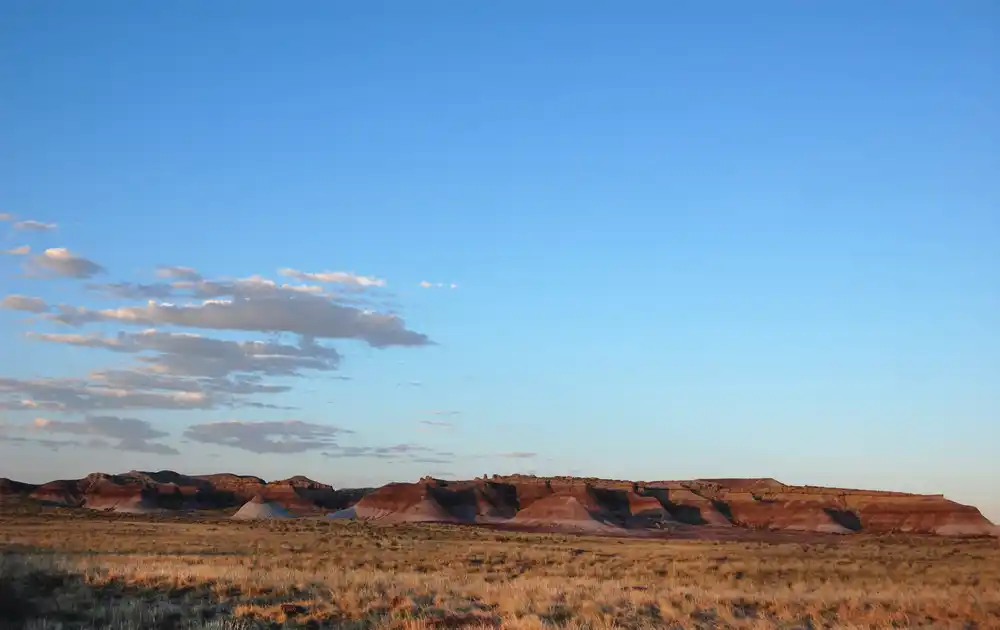 Shutterstock
Torrance County, NM
Cheapest price per 1 acre: $1,750
Torrance County is another spot in New Mexico with a lot of potential. It's located in the center of the state, which means it borders Bernalillo County and Valencia County. So, it's only about an hour away from Albuquerque.
The Torrance County website says it's full of "vast open, undisturbed rangeland" for ranchers and farmers. Anyone outdoorsy will also appreciate its close proximity to Manzano Mountains State Park and Cibola National Forest.
Cochise County, AZ
Cheapest price per 1 acre: $1,595
As previously mentioned, Arizona is a hotspot for cheap land. And Cochise County is one more place to keep in mind when searching for affordable vacant land. It's located in the Southeastern part of the state, just above Mexico.
Cochise County is home to the historic town of Tombstone and part of Coronado National Forest. Additionally, Tucson is less than two hours away. So, it offers small-town charm with big-city amenities nearby.
Land Buying Checklist
Since not all land is created equal, you'll want to do your due diligence before buying vacant land. Sometimes land is cheap because it doesn't have utilities or road access, for example. Here are some important factors to consider:
Does the land have zoning restrictions?
Are the boundaries clearly marked?
Will you need to build infrastructure for running water and electricity?
Does the land already have road access?
How much are the property taxes?
Are there any tax breaks or incentives to build homes?
Is the area prone to flooding or any other natural disasters?
Did environmental tests find anything concerning, like contaminated soil?
Buying cheap land can be a great investment, but make sure you look into the pros and cons of the property. That way, you can feel confident about the odds of your investment paying off.