If you long for a simpler life with less stress and more fun, then these 10 towns fit the bill.
They show you can escape expensive city living without sacrificing culture or opportunity.
Whether you're retired or raising a family, these towns offer a high quality of life for less.
Do you ever dream of picking up and moving to a quaint town to live a simple life? Somewhere with friendly folks, safe streets, idyllic parks, and affordable living. Perhaps you hesitate to make the move because you don't want to give up city life. Fortunately, you can get the best of both worlds in some small towns.
Here are 10 towns from across the country with plenty of charm — and close access to a metropolitan area. Each town has a distinct personality, affordable housing options, and free attractions. We used data compiled by Data USA to help determine the list.
Sandpoint, ID
Vibe: Puts the great in the great outdoors
Population: 8,386
Median property value: $249,400
Free fun: Watch classics like Othello at Shakespeare in the Park
City escape: Spokane, WA (72 miles away)
Located in North Idaho, Sandpoint is known for its beautiful scenery and year-round recreational activities. In the summer, spend the day on Lake Pend Oreille — the biggest lake in the state. Then in the winter, hit the ski slopes at Schweitzer Mountain.
Throughout the year, the quaint town buzzes with community celebrations. Enjoy music festivals, art fairs, fireworks, classic car shows, and old-fashioned county fairs. Festival at Sandpoint, one of the favorites, brings fun acts like The Beach Boys to town.
Gulfport, FL
Vibe: A little beach town with a big heart
Population: 12,335
Median property value: $185,600
Free fun: Explore the weekly farmers' market
City escape: Tampa, FL (26 miles away)
Tucked away from the hustle and bustle of Flordia's touristy spots, Gulfport has a tight-knit community that looks out for the town they love. For instance, residents gather monthly to keep the beach clean. And they keep Little Free Pantries around town stocked with donated food.
The little waterfront town also has an artsy side. For example, the community comes together for monthly Art Walks to celebrate and support local artists. Find books, antiques, and other treasures at quirky independent shops. And dig into good food at local restaurants.
Montpelier, VT
Vibe: Small town Americana
Population: 7,477
Median property value: $252,600
Free fun: Go leaf-peeping to admire the vibrant fall foliage
City escape: Montreal, QC (130 miles away)
If you're looking for a picturesque New England town, then Montpelier fits the bill. Even though it's the state capital, Montpelier maintains its small-town atmosphere. In fact, it has the smallest population of any state capital in the nation. And it's the only one without a McDonald's.
Instead of national chains, residents frequent small businesses. They also have parks, historic sites, and of course, maple syrup farms to explore. And as the state capital, Montpelier is a civic-minded town with politically engaged residents. After all, locals see the legislative process up close.
San Marcos, TX
Vibe: Austin vibe without the price tag
Population: 63,220
Median property value: $171,500
Free fun: Enjoy weekly summer concerts in the park
City escape: Austin, TX (31 miles away)
Located between Austin and San Antonio, San Marcos is the region's hidden gem. The river that runs through town can be enjoyed year-round because the waters stay comfortable at 72 degrees. So, residents can go swimming, tubing, and kayaking when the mood strikes.
Beyond the river, San Marcos also offers a thriving music scene, eclectic shops, and plenty of old-school Texas charm. Plus, the Centro Cultural Hispano de San Marco helps residents connect to the town's Hispanic heritage. Check out its museum, and then take art and music classes.
Greenville, SC
Vibe: Southern charm with a modern twist
Population: 67,737
Median property value: $292,400
Free fun: Take a walk over the single-suspension bridge in Falls Park
City escape: Charlotte, NC (102 miles away)
Thanks to decades of thoughtful redevelopment, Greenville has a thriving main street. Residents enjoy a pedestrian-friendly downtown that connects to the town's neighborhoods. As a result, many can step outside their home and stroll right into town.
It's known as a welcoming community that exudes Southern charm and hospitality. So, that means the town has delicious food, historic architecture, and charming shops. It also has a performing arts center where residents can see the symphony and the ballet.
Canandaigua, NY
Vibe: Farm country for foodies
Population: 10,287
Median property value: $164,400
Free fun: Visit the Ontario County Historical Museum to learn about local history
City escape: Rochester, NY (28 miles away)
Conveniently for foodies, Canandaigua is surrounded by the Finger Lakes farm and wine region. Residents can keep things farm-to-table fresh, thanks to the farmers' market that operates most of the year. And the town offers lots of choices for international cuisine.
Canandaigua is also a fit for those wanting four seasons of outdoor fun. Go boating or hiking from spring to fall. There are hiking trails, beaches, and parks. Then head to Bristol Mountain to ski come winter. The town does get an average snowfall of 55 inches per year!
Port Townsend, WA
Vibe: A Victorian seaside town
Population: 9,551
Median property value: $338,000
Free fun: Enjoy Concerts on the Dock during the summer
City escape: Seattle, WA (56 miles away)
Located on the Olympic Peninsula, Port Townsend is a charming seaside town. With its picturesque main street and neighborhoods, Port Townsend is a step back in time. It was a bustling port in the late 19th century, so much of its architecture is Victorian.
Take a stroll and enjoy the sea breeze while exploring downtown. There are boutiques and art galleries — plus a cute independent movie theater. Then head to one of the town's parks or beaches to enjoy the beauty of the Pacific Northwest.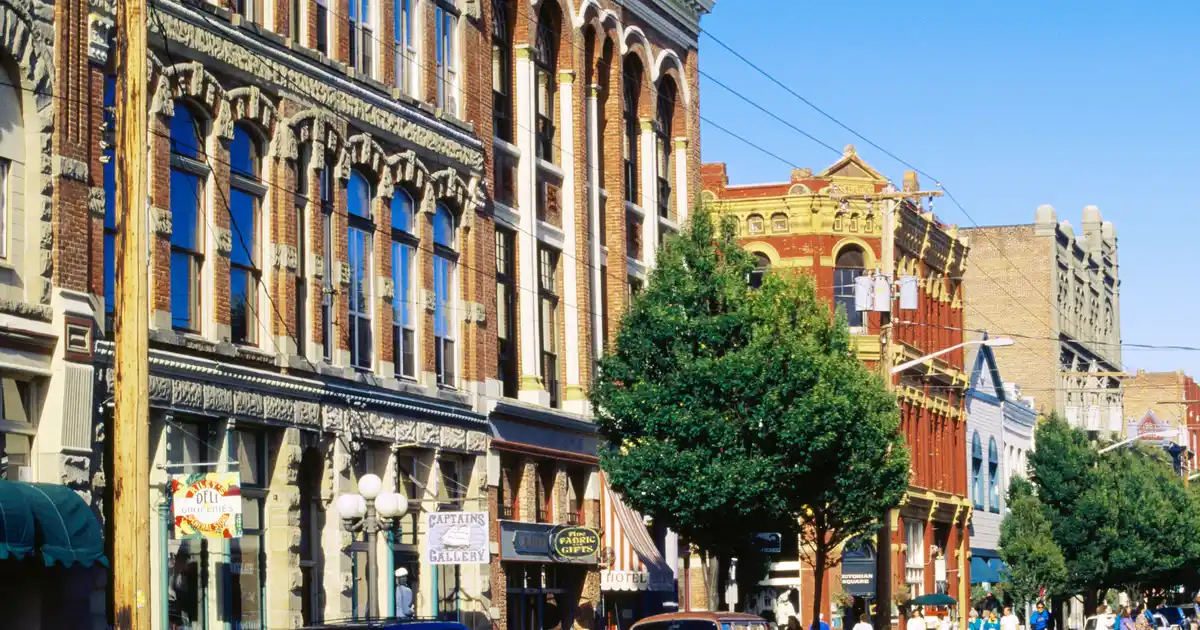 Getty
Logan, UT
Vibe: Scenic outdoor playground
Population: 50,863
Median property value: $198,500
Free fun: Explore the Riverside Nature Trail
City escape: Salt Lake City, UT (82 miles away)
When you think about Utah, dramatic deserts and rock formations might be the first image that comes to mind. But Logan turns that idea on its head. It sits in the green Cache Valley, surrounded by tree-covered mountains. Given that, Logan is an outdoor enthusiast's dream.
Grab your hiking boots and explore the nearby Wasatch-Cache National Forest before the snowy season. Then swap them for skis and head to Beaver Mountain in the wintertime. Logan's also considered Utah's "Heart of the Arts," so residents enjoy an active arts scene.
Ames, IA
Vibe: Puts the heart in the Heartland
Population: 66,023
Median property value: $205,900
Free fun: Go bird watching at Ada Hayden Heritage Park
City escape: Des Moines, IA (36 miles away)
If you're looking for wide-open spaces, then Ames has your name written all over it. It's the quintessential Midwest town — complete with a lively main street in town and rural countryside just minutes away. Ames also has great parks and hiking trails.
The little college town is home to Iowa State University, so it bustles with students. Cheer on the Iowa State Cyclones to get into the hometown spirit. And explore the beautiful campus to take in the classic collegiate feel. The campus is especially pretty in the fall.
McMinnville, OR
Vibe: Quirky wine country
Population: 34,010
Median property value: $247,400
Free fun: Check out Turkey Rama, the town's big summer festival
City escape: Portland, OR (38 miles away)
Nestled in Oregon's wine country, McMinnville residents are close to countless wineries. And thanks to the region's farmlands, residents and restaurateurs can specialize in farm-to-table dining. In addition to the benefits that come with country life, McMinnville has a quirky side.
In the spring, McMinnville hosts the UFO Festival — folks get all decked out in costumes for the parade. And every summer, residents come together to celebrate Turkey Rama, a big festival with live music, local vendors, and carnival games. Then come fall, residents decorate lamposts as scarecrows to get in the spirit.