Did you know it can cost a family of four up to nearly $800 to attend an NFL game?
The average cost for a family to go to an NFL game has increased about 64% since 2006.
Using data from Statista, we've rounded up the 12 priciest NFL stadiums for fans.
Are you ready for some football? Well, you better get ready to pay a steep price if you want to watch the game in person. According to Statista, the average NFL ticket price has gone from $62.38 in 2006 to $107.05 in 2021. To put it another way, the average NFL ticket price has increased nearly 72% in 15 years.
And Statista says the average cost for a family of four to attend an NFL game, also known as the Fan Cost Index, went from $346.16 in 2006 to $568.18 in 2021. The Fan Cost Index includes the cost of average-price tickets, parking, concessions, and souvenirs.
If you're wondering if your team's stadium is one of the most expensive for fans, then keep reading. Let's count down the 12 most expensive NFL stadiums to attend a game based on the Fan Cost Index.
12. NRG Stadium — Houston Texans
Home to the Houston Texans, NRG Stadium opened in 2002. It's the first NFL stadium with a retractable roof and seats about 72,000 fans. But if you want to experience the game from one of those seats, Statista says it'll run you about $118 for an average-priced ticket.
On the positive side, some concessions at NRG stadium cost less than the NFL league average. For example, a beer costs $6 at the home of the Houston Texans versus the NFL average of $9.25, according to Statista.
11. Lumen Field — Seattle Seahawks
The Seahawks recently finalized a major trade with the Broncos, but it'll cost a pretty penny to check out the new players in person. Indeed, it runs a family of four about $589 to watch the Hawks at Lumen Field. Of course, Hawks fans are famously passionate.
In 1984, the Seahawks retired the number 12 jersey to honor fans, making it the first NFL team to do so, according to FanSided. And Guinness World Records says Hawks fans have broken the world's record for loudest crowd roar a couple of times. So, perhaps "the 12s" view the Fan Cost Index as a small price to pay.
10. Heinz Field — Pittsburgh Steelers
Behind the Steel Curtain says the Steelers have sold out every home game since 1972. So, it makes sense that Heinz Field has become one of the priciest stadiums to watch a football game. Both tickets and concessions run higher than the national average. An average-price ticket at Heinz Field comes in at $114.24 versus the NFL average of $107.05.
Additionally, Statista says a hot dog costs $6.09 versus the average of $5.60. And a soft drink costs $5.50 versus the average of $4.86, according to Statista. Plus, Steelers fans can't forget their yellow "Terrible Towel," which the Steelers Pro Shop says costs just under $10.
9. SoFi Stadium — Los Angeles Rams
The Los Angeles Rams became Super Bowl LVI champions on their home turf. But even when it isn't a Super Bowl game,  it'll still cost a tidy sum to cheer on the Rams at SoFi Stadium. While an average-price ticket comes in at $103.62, slightly below the NFL average, concessions will cost you.
According to Statista, hot dogs and soft drinks cost more at SoFi Stadium than at any other NFL stadium. In fact, the source says a hot dog costs $2.40 more than the NFL average, and a soft drink costs $1.64 more. Since the price of a hot dog and soda totals $14.50, that adds up for families.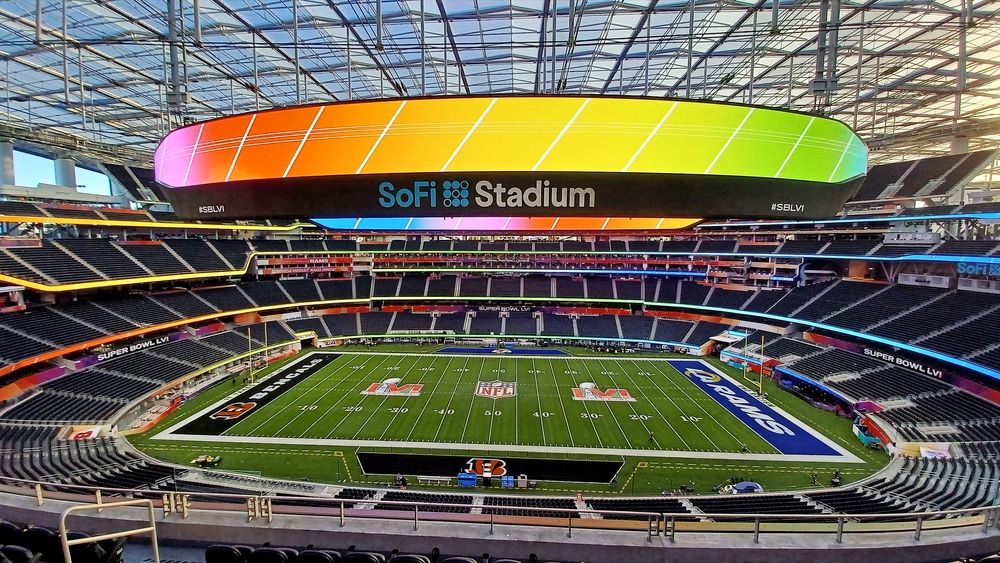 Shutterstock
8. MetLife Stadium — New York Giants
When it comes to concerts and other non-NFL events, MetLife Stadium says it's been named the "Highest Grossing Stadium of the Year" nine times by Billboard. And given its Fan Cost Index, we're guessing it does pretty well during Giants games, too.
You'll pay about $115 for an average-price ticket to enter MetLife Stadium to see the Giants. Once you're inside, hot dogs and beers cost more than the NFL average. However, a soft drink costs about $1.36 less than the NFL average.
7. FedEx Field — Washington Commanders
Even though The Richmond Times-Dispatch says the Washington Commanders have the lowest attendance in the NFL, FedEx Field is still among the more expensive stadiums to attend a game. As a matter of fact, beer costs more at FedEx Field than at any other NFL stadium.
While the NFL average is $9.25, a beer is $14 at the home of the Washington Commanders. The cost of tickets and soft drinks also run higher than the NFL average, but there is some good news: hot dogs cost less at FedEx Field than the average price at NFL stadiums.
6. Lincoln Financial Field — Philadelphia Eagles
Want to catch an Eagles game at the Linc? Be prepared for an expensive experience. The game-day cost breaks down like this: $127.06 for an average-price ticket, $17 for a hot dog and beer, or $11.50 for a hot dog and soda. Perhaps those steep prices are partly why Eagles fans are famously so rowdy.
A recent survey of NFL fans named the Eagles the league's rowdiest fans, according to Bookies.com. Of course, it's probably just that Eagles fans are incredibly passionate about their team. But we could understand making some noise about the cost.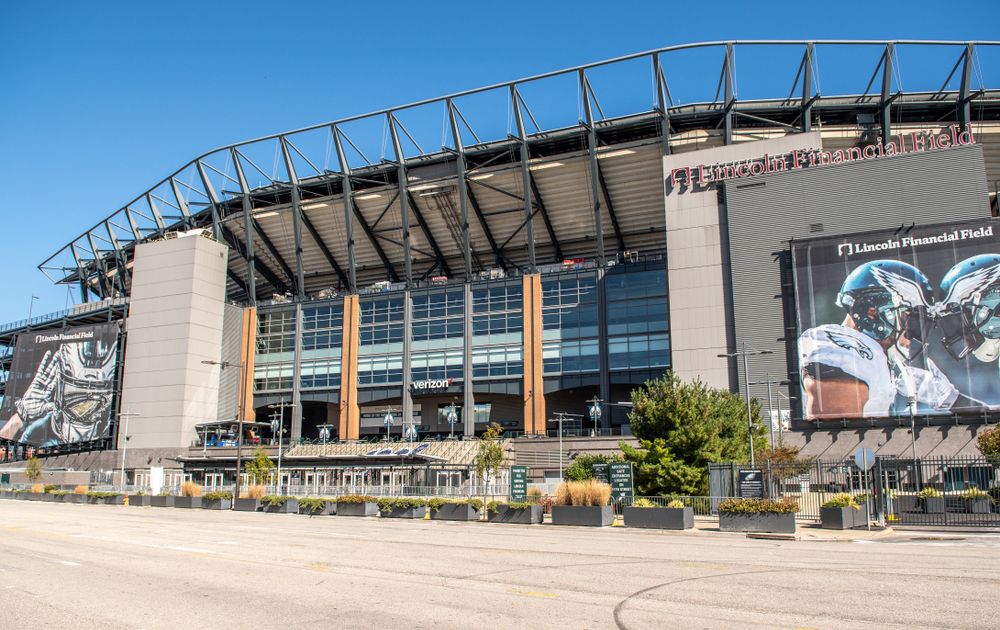 Shutterstock
5. Lambeau Field — Green Bay Packers
Back when Lambeau Field opened in 1957, named City Stadium at the time, tickets were a little less expensive. According to The Milwaukee Journal Sentinel, tickets were $4.75, $3.30, $2.38, $2.25, and 75 cents. Now, the average ticket price is $128.93.
And don't forget to factor in the cost of an iconic Cheesehead. The Packers Pro Shop says the foam headpiece will run fans about $25. We also hear Packers fans may want to budget some spending money for cheese curds or Pack 'n Cheese, which is mac and cheese with toppings.
4. Soldier Field — Chicago Bears
According to The Chicago Tribune, Soldier Field has the smallest capacity in the NFL. But that doesn't mean fans can expect small prices. On the contrary, it can cost some big bucks to attend a Bears game. Fans fork over $122.90 for an average-price ticket, $7.25 for a hot dog, $11 for a beer, and $5.75 for a soft drink at Soldier Field.
Before too long, though, Bears fans might be cheering on their team and grabbing a hot dog at a new stadium. The Chicago Tribune says the team signed a purchase agreement for an Arlington Heights property in September 2021.
3. Levi's Stadium — San Francisco 49ers
Living up to the Bay Area's reputation for being expensive, Levi's Stadium cracks the top three of the priciest NFL stadiums for fans. "The Faithful" shell out $139.71 for an average-price ticket. So, if you want to sit in one of the stadium's 68,500 seats, it costs about $33 more than the average NFL ticket price.
It's worth noting that Levi's Stadium is an incredibly high-tech venue. As Time puts it, Levi's Stadium is a "smart stadium." The source says it's designed to give fans an immersive experience that combines the in-stadium experience with the content viewers have access to at home. For instance, fans can use the stadium's app to watch replays and get stats.
2. Gillette Stadium — New England Patriots
The Patriots won six Super Bowls with Tom Brady. Even though Brady's no longer a Patriot and the team hasn't been quite as dominant recently, seeing a game at Gillette Stadium is still a high-priced experience. According to the Fan Cost Index, it costs a family of four about $670 to see the Pats play a home game.
That's about $100 more than the NFL average. And the next time Patriots fans open up their wallets to see a game, things might look slightly different at Gillette Stadium. The familiar north end zone lighthouse was torn down as part of ongoing renovations. CBS Boston says a "new and enhanced lighthouse" will replace it.
1. Allegiant Stadium — Las Vegas Raiders
The Raiders' Allegiant Stadium tops the Fan Cost Index with a price tag of $778.56. That means it costs a family of four around $100 more to see a game at Allegiant Stadium than at the already expensive Gillette Stadium.
The average ticket at Allegiant Stadium costs over $150. Additionally, it costs fans $17 for a hot dog and beer or $14 for a hot dog and soda. Of course, fans do get a chance to check out the futuristic stadium. The imposing state-of-the-art venue has even been nicknamed the Death Star.