From toilet paper to instant coffee, companies are shrinking product sizes without decreasing prices.
This practice is known as shrinkflation, and it's hitting grocery and big-box store shelves right now.
Keep an eye on the unit price — not just the sticker price — when you shop to spot shrinkflation.
Sure, you've probably heard a lot about inflation. But what about shrinkflation? It's a sly way companies try to slip price increases by customers without them noticing. In short: instead of raising the sticker price, companies shrink the size of the product.
So, you're getting less product for the same price. And in some cases, you might even be paying more for less (unless you're using coupons). Here are 12 notable examples of shrinkflation that customers are facing right now.
Charmin Toilet Paper
If you think toilet paper rolls are getting smaller, then you're probably right. Charmin, for instance, has cut the size of its rolls. According to AARP, the brand's Ultra-Soft Mega Rolls used to have 264 double-ply sheets. Now, a roll has 244 sheets.
Similarly, Charmin Super Mega Rolls are smaller these days. Each roll has 366 sheets instead of 396. And Charmin isn't the only toilet paper brand shrinking the size of its rolls. The source says Cottonelle rolls are also smaller than they used to be.
Chobani Flip Yogurt
Have you noticed anything different about Chobani Flip yogurt? Eagle-eyed shoppers may have caught that the containers have recently shrunk. Buzzfeed says the company reduced the size of the packaging, so its containers are now shorter.
While you used to get 5.3 ounces of yogurt, the updated packages contain 4.5 ounces. That amounts to a 15% decrease. According to the source, Chobani says the change is an effort to make the snack under 200 calories. At any rate, customers get less.
Tillamook Ice Cream
Sorry, ice cream lovers. This one might hurt. Cartons of Tillamook ice cream are another victim of shrinkflation. According to Fox Business, the company decreased the size of its carton from 56 ounces to 48 ounces.
Tillamook addressed the size change on its website, saying it had two choices because making ice cream has gotten more expensive: "increase the unit price per carton or reduce the carton size from 56oz to 48oz and keep the price the same."
Nescafé Azera Instant Coffee
Your morning cup of coffee might be pricier. Take Nescafé Azera instant coffee, for example. Buzzfeed says a can of the coffee recently went from 100 grams to 90 grams. Since the company recommends using 10 grams per serving, a can makes one cup less.
According to the source, Nescafé Azera attributes the size reduction to the rising cost of coffee beans. The company says both Arabica and Robusta coffee beans have gotten more expensive. The former by 80% and the latter by 70%, according to Nescafé Azera.
Keebler's Chips Deluxe with M&Ms Cookies
Those little Keebler elves aren't making as many cookies as they used to. Whether you buy the standard size or the family size, you now get fewer Keebler's Chips Deluxe with M&Ms Cookies.
According to AARP, the standard size used to have 11.3 ounces of cookies. Now, it has 9.75 ounces. And the family size went from 17.2 ounces to 14.6 ounces. That's a decrease of 13% to 15%, depending on the size you buy.
Kleenex Facial Tissue
If rising prices have you shedding a tear or two, then try to refrain from grabbing Kleenex to dab your eyes. Sadly, shrinkflation has struck Kleenex boxes. The Associated Press says a small box of Kleenex now has 60 tissues.
That's down from 65 tissues per box. While that might not sound like that much, it's a decrease of nearly 8%. So, each sheet of Kleenex is more expensive than it used to be. And even relatively small price increases add up.
Gatorade Sports Drink
Gatorade bottles are also smaller. "The company recently began phasing out 32-ounce bottles in favor of 28-ounce ones," according to the Associated Press. That's nearly 13% less Gatorade per bottle. However, the company says the size reduction isn't related to inflation.
According to the Associated Press, Gatorade says the change is an effort to make the bottles easier to hold by tapering the design in the middle. But as the source notes, that doesn't explain why 28-ounce bottles are more expensive.
Milky Way Bars
We've got some more sad news for sweet tooths. Fun-sized Milky Way bars are a bit less fun than they used to be. According to Fox Business, a bag of fun-sized Milky Way bars went from 11.24 ounces to 10.65 ounces.
That's a small enough difference that you might overlook it unless you directly compared an older bag to a current one. Next time you're at the grocery store, consider comparing the unit price of different types of candy to find the most affordable option you can.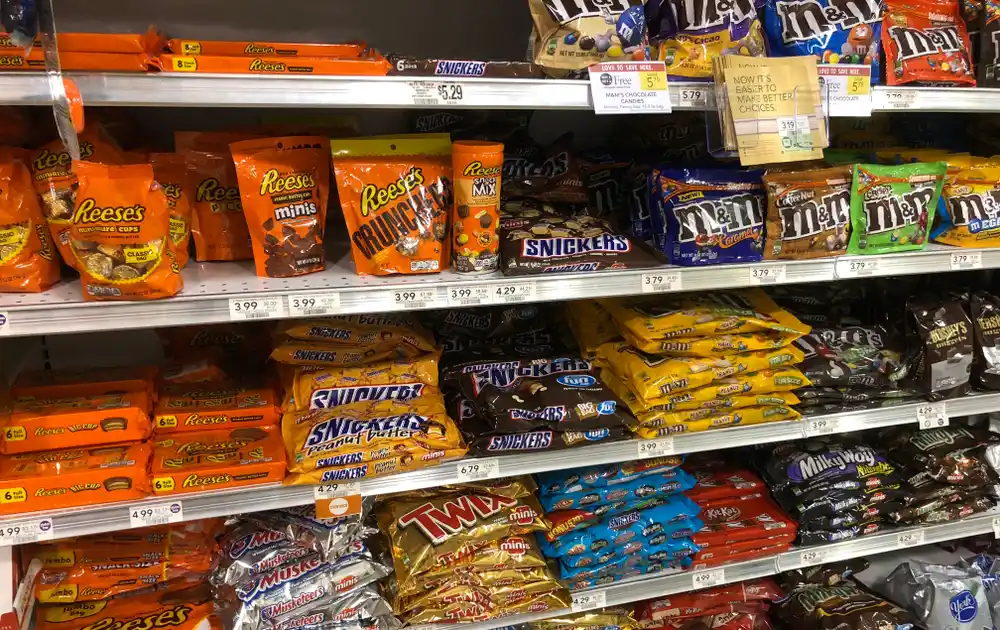 Shutterstock
Gain Liquid Detergent
If you use Gain liquid detergent, then you may have noticed that the bottles contain less product. While bottles used to have 165 ounces of detergent, they now have 154 ounces. However, Fox Business says each bottle reportedly washes the same amount of loads.
According to the source, Proctor and Gamble — Gain's parent company — says the formula is an upgraded, more concentrated version of the product. Commodity and transportation costs have gotten more expensive, so the reformulation is an effort to offset that.
Pantene Pro-V Curl Perfection Conditioner
Shrinkflation has also made its way to the beauty and personal care aisle. For instance, bottles of Pantene Pro-V Curl Perfection conditioner were recently downsized. The Associated Press says bottles used to have 12 ounces.
But now they're down to 10.4 ounces. That's a 13% decrease. Despite the size reduction, the source says bottles still cost $3.99. So, the next time your go-to beauty products are on sale, you might want to consider stocking up.
Hefty Trash Bags
Thanks to shrinkflation, even taking the trash out is getting more expensive these days. Those who use Hefty trash bags may not have noticed, but boxes don't have as many bags as they used to.
According to The Washington Post, Hefty's tall kitchen trash bags have 10 fewer bags per pack. While the brand's Mega Pack used to have 90 bags, it now has 80 bags. That's a significant decrease even though the price didn't change.
Fritos Scoops! Chips
The next time you pick up some chips for a barbecue or party, you might be getting less for more. For example, the Associated Press says a party-size bag of Fritos Scoops! corn chips is now smaller and more expensive.
According to the source, a bag used to have 18 ounces of corn chips. But the newer bags hitting grocery store shelves only have 15.5 ounces of corn chips. That's a decrease of nearly 14%.