When did you start learning about money? It probably wan't as a small child. We bet it was at a much later point in your life. Maybe your mid-teens? Or perhaps you never really learned how to properly manage your money at all. Money management, like many other good habits, should start at a young age. Opening up a bank account for your child is a great way to introduce these habits. Most experts recommend doing this around the time your child is six-years-old or so. Keep them involved in every aspect of opening the bank account. Make a point to explain the fees to them and showing them how interest will help their money grow. A bank account will help to introduce many different concepts surrounding money. The good news is that many banks offer youth accounts. Even better, most of them have very low fees – or none at all.
How to Open an Account For a Minor (Under 18)
While children under the age of 18 are able to have accounts in their own names, an adult must be the one to open it. These are typically called joint checking or savings accounts. Choosing the right account is important. Some cater to younger children, while others focus on teens. Some are geared towards saving money, while others are more of a beginners checking account for kids getting their first part time job. Different banks (and states) may have rules regarding the age of the minor on an account, so it's important to check into that.
Usually, you are able to open accounts online or in person. Bank requirements will vary, but you'll likely need your child's Social Security number, passport or birth certificate, in addition to your own identification.
What You Should Look For
While it might be easier to just open up a children's account at your current bank, there are a few things you should consider when looking for the best option. Ask yourself the following questions first.
Is there an initial deposit requirement?
What are the fees associated with the account?
Is there a balance requirement to keep the account open?
What is the interest rate for the savings account?
Are add-ons (checks, debit cards, online banking, etc.) available?
If there are other features that are important to you, like transferring money directly into your child's account, make sure to get those questions asked before making a final decision.
Four of the Best Bank Accounts for Kids
Here are some the best checking and savings accounts we found for kids aged 17 and under.
Chase High School Checking
This account is available for high school students (ages 13-to-17). The account must be jointly owned by both the student and their parent/guardian. It also must be linked to their parent/guardians Chase account. At age 19, the account will change to a Chase Total Checking account.
There is no minimum deposit required, and no daily balance or monthly fee. There is also an additional incentive for kids that are heading to college (and at least 17 years old). They are eligible to receive a $100 bonus for opening a new Chase College Checking account. They can redeem the offer online and receive the money after following a few simple instructions.
PNC 'S' is for Savings Account
This account is what is known as a UTMA, which stands for Uniform Transfers to Minors Act. With this type of account, gifts of high value (like money or real estate) can be transferred to a custodian for the benefit of the minor, until the child becomes a legal adult. These accounts are also tax-free for the minor until they receive the account. However, the assets are considered part of the custodian's estate and are taxed accordingly.
The PNC account works to teach kids about finances through Sesame Street. The themed learning center is an interactive experience for kids, who can learn about goal setting, saving, sharing and spending. They will even receive money tips from Elmo and other characters.
You are able to set up automated savings with this account. That makes it easy to send your child a regular allowance or chunk of savings. It's no-fee after the required initial $25.00 deposit. There is a no minimum daily balance required. As long as the account holder is under the age of 17 there is no fee associated with the account.
Bank of America Child Savings Accounts
Bank of America offers two separate options for kids accounts. There's a regular Minor Savings Account and a Custodial (UTMA) Savings Account.
The Minor Savings Account allows your child to have full access to their money and can set up automatic transfers. The account is FDIC insured. On the other hand, the Custodial Savings Account does not give minors access to the account until they hit 18. Automatic transfers can still be arranged and is also FDIC insured.
The Minor Savings Account is jointly owned by the child and their parent or guardian. It requires an initial $25.00 deposit, but there is no minimum daily balance required while the child is under the age of 18. Once they turn 18, the account is converted into a BoA Advantage Savings account, where normal fees do apply.
The Custodial Savings Account has the minor's parent act as a custodian for the account. The initial deposit is much higher, sitting at $100. After that, it requires a $500 minimum daily balance. As long as the account reflects the minimum daily balance the account fee is waived. Otherwise an $8 monthly fee applies.
Wells Fargo Way2Save Savings Account
This savings account offers free online transfers between Wells Fargos accounts. It also gives free online statements that you can use to help teach your kids about money management. The account has joint ownership, requires an initial deposit of $25.00, has no minimum daily balance, and has no monthly service fee for those under the age of 18 (19 in Alabama).
Your Local Credit Union?
It never hurts to check out all your options. Check with your local credit union to see what they offer for minors. Many of them also offer at least one type of youth account. You may find lower fees or higher interest rates if you take the time to shop around the financial institutions in your area.
The Last Word
Even when stashing your kids' money in a piggy bank may seem like the easiest way to handle their finances, the benefits to opening a bank account are important. Opening a bank account can teach your kids the value of their money, help them understand compound interest, and how their money can grow. As their parent, you can help them learn how to save towards a big goal. Opening a bank account for your kids is a great first step to teaching your children about money. Hopefully, it creates good budgeting habits that will help make them financially responsible as they grow into adulthood.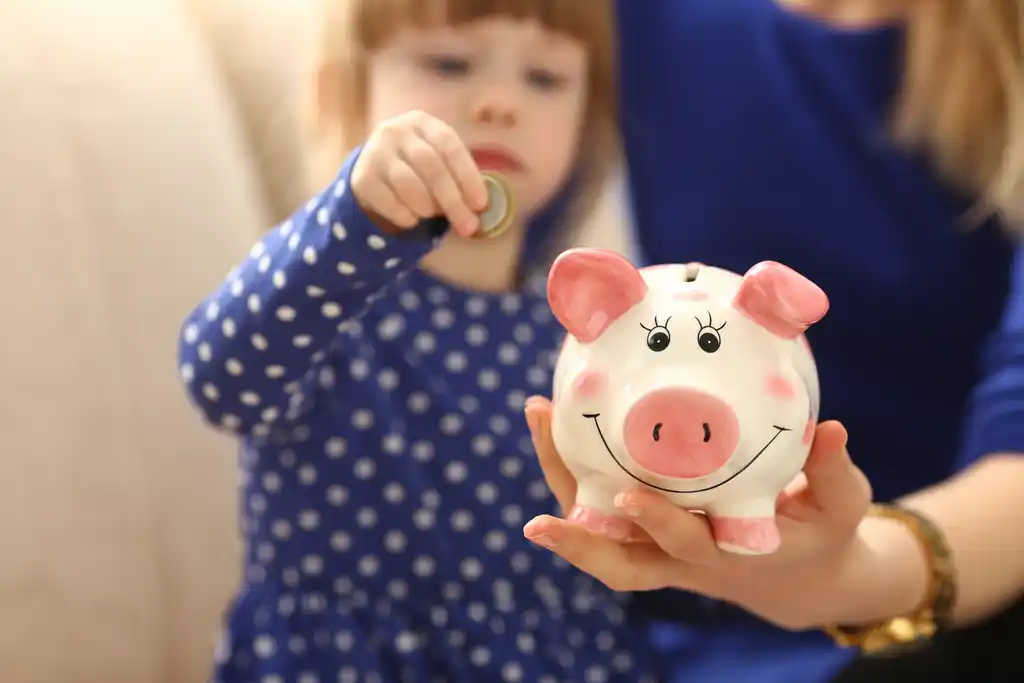 Shutterstock